The Core Offer: The Key to Long-Term, Easy Writing Success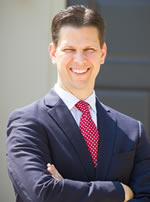 Joshua Boswell
I suddenly noticed that I was standing up. I was so excited and nervous and scared; I didn't even realize I'd gotten out of my chair and was standing in the middle of the hotel room.
The cell phone in my hand was shaking violently, but I was trying desperately to keep my voice calm and professional.
We were on a lunch break. It was June of 2005 and the last day of Bob Bly's Selling Yourself Weekend.
The night before I'd sent out an email to some people that I knew telling them I was a trained copywriter now, specializing in press releases and PR work. Did they need anything written? Did they know anyone?
Why did I tell them I was a PR guy? (Confession time … I'd never written a PR piece in my life! But, hey … give me a break … I was desperate!)
Because Bob had said I could charge about $500 per press release. I figured if I just did 5 per week, I would only have to work 40 weeks in a year and could still make $100,000.
"That's a sweet deal!" I thought, "Sign me up!"
So, I sent out the email and was shocked when 2 hours later I got an email back from my friend Patrick …
"I heard my friend Julie at DCI might need a writer. Julie … meet Joshua Boswell. He's a copywriter specializing in PR."
Then an hour after that Julie writes …
"Joshua, nice to meet you. Can you jump on the phone with me tomorrow at around noon?"
It was now the next day and there I was, standing in my hotel room trying not to wet my pants telling Julie I'd be happy to send over some samples of my work.
"But," I said as cool as could be, "I'm at a business conference for the next few days, so I'll send those over by next Wednesday, OK?" (I needed time to write them!)
In the end, I got the contract.
I wrote for them for the next 5 years. I was on retainer. The first year I made $2,000 a month … the second it went up to $3,000 a month … and then it was bumped to $5,000 a month.
In all, I estimate that one client was worth just about $240,000.
Not bad … but here's the kicker …
It only cost me about 20 hours a month, sometimes less.
That meant I had plenty of time to do other work and spend time with my family.
What made it possible for me to land a client so fast as a rank newbie and then keep them for so many years? How did I bump my fees with them year after year?
The answer lies in my use of the Core Offer concept.
Now, to be honest, I stumbled onto this strategy. I promise you, in those days it was not calculated or refined, but it worked. And, it can work for you, too.
What is your Core Offer? And how do you use it? Let me explain …
Imagine you've been invited to have lunch with a long-lost cousin. It is reported that she is very wealthy and lives in a mansion.
You follow Google Maps to the address and are surprised to find the house takes up an entire city block. The block is enclosed with a beautiful fence. Each side of the fence has a large gate stating, "Main Entrance".
Slightly confused you make your way through one of the gates … only to discover that there are four massive porticos and large doors on each side of the house.
Everything is labeled, "Main Entrance – Enter Here".
Now you are really confused. Where do you go? Which is the right one?
So, you call the number provided by your cousin and get the porter. "I'm outside and wondering which door I should go to for my lunch appointment." "Yes, sir," he says, 'Just come to the main entrance." And hangs up.
Now, stop imagining for a minute.
How do you feel?
Confused? Most of us would be uncertain about how to proceed.
Now, let's change it up …
You're still invited to have lunch with your long-lost, super rich cousin. But this time, as you pull up, there is only one gate, one portico and one front door, with a large drive leading right to the door.
Now how do you feel?
Confident that you're in the right place? Yes!
I've just described to you the power of the Core Offer.
Your Core Offer brings clarity to your clients. It lets them know who you are and what you do.
In my case with Julie she knew that I was a writer specializing in PR work.
She needed a PR writer, so I was a perfect fit. She knew which door to use to gain access to my services.
Compare that to a Facebook post I saw the other day by a new writer that in part said, "I'm also good at FB ads, making funnels, I can write VSL's, whatever … You name it — I'll do it!"
Reading that, I think, "This guy has no idea what he wants to do … except beg me for money."
It's like going to a home with a dozen "main entrances." Besides being confusing, it kills your response rate. No wonder he can't get projects.
So what exactly is your Core Offer?
It is the writing service or small bundle of services you focus on.
For Clayton Makepeace it's long copy financial copy.
For Steve White it's email copy.
For Bob Bly it was B2B chemical industry copy.
For me (at least to Julie) it was PR copy.
How do you come up with your Core Offer?
There are four simple steps to selecting your Core Offer:
First: List Your Strengths
Are you good at social media? Long copy? Emails? Storytelling? Technical writing?
Always play to your natural strengths.
When I was a competitive swimmer, I was great at sprinting. 50m and 100m stuff. I noticed that I wrote the same way … in short, fast, powerful bursts. Thus, stuff like press releases and Op Ed articles felt like a natural fit for me in the beginning.
Second: Review (or Define) Your USP
This is essential because it wraps your Core Offer in your unique brand and voice, making it attractive to serious-paying clients.
Remember, you don't need to be totally unique … just a little bit.
Julie knew that I'd worked on a couple of major political campaigns and that I'd traveled all over the country.
She needed someone that understood the different political nuances from different regions of the country. I had that insight, making me unique, and perfectly suited for her needs.
Third: Identify Your Market Needs
What kind of copy is your niche market already using? You know what the needs are by observing what they are already doing.
If they use email, they need more email. Using whitepapers? They need more of it.
Make a list of the types of writing most used in your market.
DCI was cranking out hundreds of press releases, articles, and political pieces every week. They needed more!
Finally: Connect the Dots
Look at where your USP, your strengths, and the market needs overlap. Using that information, come up with a Core Offer.
In my case, I started out as an experienced political junkie specializing in PR writing.
What's your Core Offer?
I bet if you took an hour or two tonight and gave it some deep thinking, you could hammer it out. If you do, it will benefit you for many, many years to come.
You'll give your market confidence and clarity. They will know who you are and what you do and why they should hire you.
One last thing …
How does this create long-term wealth?
That's simple … If the front door of the mansion is your first project with a client, then each door inside the mansion is another potential project.
Once they are inside, you simply lead them from room to room.
In my years with DCI I wrote fundraising letters, speeches, press releases, whitepapers, articles, PowerPoint presentations, and more.
You never, ever lose money or clients by focusing on your Core Offer. You only gain great clients that keep you around for years.
So, take some time today and define your Core Offer. You'll be so glad you did.
Tomorrow, we'll talk about your Systems and Policies. Get ready to go from amateur to highly respected professional …

The Professional Writers' Alliance
At last, a professional organization that caters to the needs of direct-response industry writers. Find out how membership can change the course of your career. Learn More »

Published: February 23, 2016