One Final Secret to Becoming the Best Online Copywriter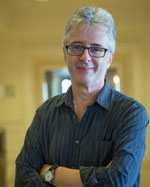 Nick Usborne
In this final article, I'm going to review what we have explored so far, and then reveal one final secret.
First off, as I said at the outset, the online environment is absolutely the best place to be a freelance copywriter.
It's an environment of amazing abundance simply because it is growing so fast and there is such an urgent need for trained online copywriters.
That's a wonderful thing. Because it peels back a layer of anxiety you might feel if you were a copywriter for TV commercials, for example. That market is shrinking, while the online market is expanding.
So … we have abundance on our side.
That means we can be choosy. And for the reasons I have talked about in this series, the best way forward is to be persnickety about choosing an industry that fascinates you, and a writing specialty you really enjoy and love.
Do that and you'll get up every morning with a smile on your face.
The more you enjoy your work, the more you'll be appreciated by your clients. They love enthusiastic, high-energy freelancers!
And when you're sought out by clients, your value in their eyes goes through the roof and you'll break through that six-figure ceiling faster than you ever imagined.
OK … now for the secret I mentioned.
If you love what you do as a copywriter you'll become a much BETTER copywriter. The more you love your work, the more skilled you'll become.
This shouldn't surprise you. I'm sure you have read stories about people who are incredibly successful simply because they don't really consider their jobs to be "work" at all. While most people go to "work", these people go to play and have fun. It doesn't feel like work.
I know that to be true from my own experience.
Putting aside those occasions when I make mistakes in taking on dud projects — usually because I'm feeling greedy — the vast majority of my work is doing stuff I really enjoy with clients I really like.
And in 100% of cases the best work I have done comes out of those relationships.
I have never been able to do my best work on a project I didn't really like. I try. I'm professional about it. But I just don't think it's possible to do your best work without that spark in your eyes.
In my view, this is the fastest way to become a top-shelf copywriter. Always work on projects you love, and your skills will develop at a crazy pace.
And the better your skills … well, I think you can figure out all the benefits and rewards that come from being in that place.
In case you have noticed, I have thoroughly enjoyed writing these articles.
I LOVE sharing stuff like this! : )

The Digital Copywriter's Handbook
Learn how to become an in-demand online copywriter for companies big and small. Online copywriting expert Nick Usborne shows you how to write web copy that converts. Learn More »

Published: February 12, 2016