How to Fall in Love with Your Career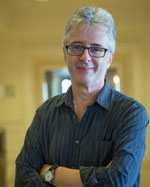 Nick Usborne
Hi, Nick Usborne here.
Imagine how life would feel if you truly loved your work — each and every day — and it earned you six-figures a year.
Sounds amazing, right?
Well, over the course of the next five days I'm going to show you how to lead exactly that kind of life.
You'll learn how to make six-figures as an online copywriter by working only with clients you like and on the kinds of writing projects you do best and love the most.
That means waking up in the morning with a smile on your face and a fat balance in your bank account.
Of course, most of your neighbors and friends have the opposite experience.
They go to work because they have to. And when they get to work, they have to do what their boss tells them to do. Even when they hate doing it.
That's a miserable way to go through life.
Fortunately, as an online copywriter you get to choose the "I love my work!" option.
You can have the life of a spoiled kid — choosing only the kinds of companies you want to work with, and the types of projects you want to take on.
How can online copywriters be so pernickety? How can we have the luxury of being able to pick and choose?
It's a supply and demand thing. Economics 101.
Right now the world of online ecommerce is exploding. The growth is extraordinary.
Online sales of products and services have now broken the $300 billion-a-year barrier. And there are literally millions of companies online, competing for a slice of that pie.
A big part of that growth is being fueled by companies moving their marketing budgets from offline media — like print ads, billboards, and TV commercials — to online, digital media.
Last year, in 2015, marketers still spent more on TV than they did online.
But that was TV's last year of dominance. This year's spending projections show that online digital spending will outstrip all other media spends, TV included.
This massive influx of money means that companies are desperately in need of copywriters who understand the online environment. They need expert online copywriters.
And right now the demand for online copywriting skills is far outpacing the supply.
That's how you get to be pernickety! How you get to pick the clients you really want to work with. And why you are in a position to choose the types of writing work you love most.
In tomorrow's article I'll tell you exactly how to set about identifying the right clients to go for and the kinds of projects that best suit your strengths as a writer.
But before you go, be sure to scroll down and leave any thoughts, comments, or questions in the comments box. I read them all and reply to as many as I can!

The Digital Copywriter's Handbook
Learn how to become an in-demand online copywriter for companies big and small. Online copywriting expert Nick Usborne shows you how to write web copy that converts. Learn More »

Published: February 8, 2016