How to Find Your First Clients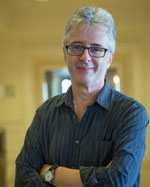 Nick Usborne
Today I'm going to talk about finding your first few clients.
But not just any clients. You're going to reach out to companies in industries you are really interested in. And you're going to pitch the online copywriting specialty you love the most.
You're not going to approach any and every company out there that might give you work. You are going to be laser-focused on landing projects that you'll really, really enjoy working on.
I'm not being all Woo Woo and West Coast about this when I talk about loving your work.
The more excited you feel about landing a particular client, the more likely you are to succeed.
I have a good buddy who is a serial entrepreneur. He hires a lot of freelancers. A while ago I asked him what he looked for in a freelancer, why he would choose one over another.
As a baseline, he looks for competence. He needs to know the freelancer has the training and skills to do the job well.
After that comes the surprise. He doesn't look for the best or the most experienced. Nor does he go for the lowest bid.
He chooses the freelancer who is the most excited to work with him and his company. He chooses the freelancer who would really LOVE to work with him.
True story.
So … draw up a list of companies in the industry you want to work in.
Make it a long list, because this is a numbers game. Not every company you reach out to will use freelancers, and some that do won't have work they need handling right now.
So draw up a list of 50 companies. They can be anywhere in the country, or the world even. (I live in Canada and have had zero Canadian clients over the last 10 years. My clients are in the U.S., Europe, and the Far East.)
Next, find their websites and go to the contact page. There you'll find either an email address or a contact form.
Send a message like this one:
Hi,

My name is Nick Usborne and I would really appreciate it if you could give me the name and email address of the person in your company responsible for Online Marketing and Web Content.

Thanks in advance!

Nick Usborne
That's all you write. Really short. Why? Because there is no point in pitching yourself until you know who you should be talking to. A perfect sales pitch to the wrong person will do you no good at all!
Sometimes you won't get a reply. But often you will. And you'll get the name of the person who makes decisions about digital marketing and hiring freelance copywriters.
With that name and email address in hand, you then write a short email offering your services.
Just 10 lines or so. Say what you do and tell them why you want to work with them.
I get long sales emails from freelancers once or twice a week. I delete them because I don't have the time to read them. I don't even know those people!
So you start off short. If they're at all interested they'll get back to you. And that's when you can get into a longer conversation about why you would really, really LOVE to work with them!
Try this approach. It works.
OK. That's it for today. Tomorrow we are going to wrap things up by digging deeper into why loving your work is the key to success and riches.

The Digital Copywriter's Handbook
Learn how to become an in-demand online copywriter for companies big and small. Online copywriting expert Nick Usborne shows you how to write web copy that converts. Learn More »

Published: February 11, 2016