Increasing Website Engagement — 7 Strategies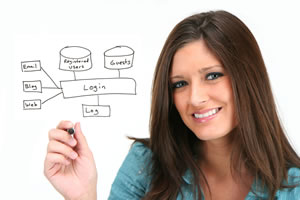 Imagine for a moment you're waiting in line to order a latte at a coffee shop …
You strike up a conversation with the person standing next to you in line, but you don't really connect. Your interaction is superficial, and you both go your separate ways after you get through the line.
But, sometimes you do connect with strangers. The conversation takes on a life of its own. You continue talking, even after you've placed your orders. You might decide to grab a table to keep talking after you've received your coffee.
At this point, you're invested in the conversation. You've made some level of emotional commitment. You're engaged.
That's what good web writing does to a reader. It gets him emotionally involved. It gets him engaged.
And, the more engaged your reader is, the longer he'll stay on the website … and the more apt he is to buy.
It sounds simple, and it is. But, it's not always easy.
You need a strategy or two … or seven …
Like these seven proven strategies for increasing website engagement. I've used them with great success, and now you can, too.
1. Use Video
Video is inherently engaging, because it combines audio and visual. That's one reason why video sales letters are so successful. But VSLs aren't the only kind of videos you should be using on websites to increase engagement.
For example, I've had owners or key staff members of a business record a welcome or introductory video for their website. I've also used video to demonstrate a product and to give how-to instructions.
I had one client, an attorney, who recorded brief one- to two-minute videos explaining different legal processes he specializes in. The videos were meant to:
Demonstrate he knows what he's talking about … that he is, indeed, an expert in his specialty area.
Show he's sincere in his desire to help people.
Show he's likeable and trustworthy.
Get website visitors to stay on the page long enough to become engaged with his message.
There's a video, sometimes two or three, on every page of his website. Visitors stay on his pages for several minutes. They're engaged with the content. And, his law firm is thriving.
2. Encourage Social Sharing
Another way to increase engagement is to touch your reader on an emotional level. When that happens, she tends to share with others.
So, encourage social sharing by:
Having your client's web designer include social sharing buttons on the website.
Creating content your reader will want to share, because doing so makes her look smart.
Highlighting quotable content in a pull-quote or text box.
Asking for the share.
If you want your website visitor to share your content, you need to make it as easy as possible for her to do so. And, like with any other action you want someone to take, you shouldn't leave it to chance … you must ask her to do it.
3. Ask for Comments
If you approach web writing as a conversation between your client and his customers or prospects — and you should — then this strategy will come as no surprise to you. Because a true conversation isn't a monologue … it's a give-and-take between two people.
Now, you won't ask for comments on every web page. It's often not appropriate. But, you can direct the reader to contact the company if he has questions. That's still keeping the conversation open-ended.
On the other hand, asking for comments at the end of a blog post or article on the site is a good practice and sound strategy for increasing engagement.
When a reader posts a comment, he's actively interacting with the website. In his mind, he's speaking directly to the company. He's highly engaged.
4. Link to Related Pages of the Site
Giving your reader links to other pages of the website related to the one she's on is like saying to her, "You'd probably like this, too."
Imagine telling a friend about the fabulous meal you had last night at a new restaurant in town. It was the best meat loaf you've ever had!
Then your friend says, "If you like meat loaf, you should try the restaurant down the street from my house … Their meat loaf is legendary!"
How does the suggestion make you feel? Like your friend really gets you and is being helpful … right?
Suggesting related content on a website by linking to it is helping your reader find other content she might also like. It's being helpful. It's also encouraging that reader to stay on your site longer … getting her more engaged.
Three places to consider putting links to related content:
Hyperlinked words or phrases in the page content itself.
"More Like This" (or something similar) at the bottom of the page, followed by a list of hyperlinked titles.
A hyperlinked "tag cloud" in the sidebar, consisting of tags commonly used on the website, which when clicked takes the visitor to pages with those tags.
5. Enable Site Search
This strategy is based on the same principle as suggesting related content — you're being a helpful friend. But, instead of leading your reader to specific content you have in mind for him, a search bar on the site allows him the freedom to search for whatever else he might have thought of himself.
This is something your client's web designer will have to do, as it involves back-end coding. But, if you're taking a consultative approach to web writing, it's definitely something you should be aware of and recommend.
Remember, any time you can get the reader to click or type something on a website, he's engaged. He's staying on the site longer. He's more likely to buy.
6. Give Valuable Freebies (Lead Magnets)
Clicking on a link or a button to claim a free gift — a lead magnet — is a clear act of engagement. Give your reader that opportunity!
For example, if your client's website is for a housecleaning service, offer "17 Essential Questions You Should Ask Any Housecleaning Service Before You Let Them Step One Foot into Your Home" as a free downloadable report.
This is a particularly powerful strategy, especially if the competition isn't doing it.
Imagine you're a mom looking for running shoes, and you come across two websites … One offers a free download of "Top 10 Family-Friendly Running Events in California," and the other offers nothing extra. Which website is more engaging?
By the way, if you get that mom who was just looking for running shoes interested in getting her whole family to participate in one of the events in the lead magnet, how many additional pairs of shoes might she need to buy for the rest of the family?
Increasing website engagement can also increase sales!
7. Publish Really Great Content
Readers arrive at websites because they have a problem, and they're searching for a solution. Make sure your web copy clearly provides that solution.
Dig deep into the emotional benefits and transformation your visitor is looking for, and provide content that speaks to whatever challenges he's facing. Make him feel something, and you've got him.
Engaging web content does any of the following:
Entertains
Educates
Inspires
If it does all three, you've hit a grand slam!
Website Engagement Metrics
When measuring website engagement, most marketers look at visitors' time spent on the site, clicks, comments, shares, or purchase behavior … or a combination of these. Your clients may have different engagement goals for different websites, or even for different pages of the same site.
The seven strategies you've just read about have been proven to improve these engagement metrics. Implement them, and you'll increase your own (or your clients') website engagement, too.
I'd love to hear your feedback! Post a comment or share your own experience with any of these strategies below.
This article, Increasing Website Engagement, was originally published by Wealthy Web Writer.

The Professional Writers' Alliance
At last, a professional organization that caters to the needs of direct-response industry writers. Find out how membership can change the course of your career. Learn More »

Published: February 3, 2016