What it Takes to Get Great Clients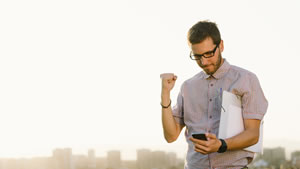 Paul Hollingshead once wrote …
"It really is a crazy and unfair world out there …

On one hand, there are people who bust their butts working year after year … slaving away for bosses and managers who don't appreciate them … to earn a paycheck that does little more than pay the bills.

But then on the other hand, there are those who seem to have found a better way.

I'm talking about people who live life on their own terms."
He's 100% right.
There are those of us that use our writing skills to live life on our own terms. We get up each day and do things our way, living out the dreams and imaginings of our hearts.
This year, over the course of the next 12 months – would you like to be one of these people?
Yes! I thought you might. ;-)
To make this a reality, it's vital that you get one magical thing right …
You MUST develop the ability to land clients on demand … and keep those clients for many years to come.
And, not just any ol' clients … but great clients!
Clients who love you, say tons of nice things about your work …
Clients who never brag too much about you, because they're terrified someone will steal you away from them …
Most of all, clients who don't mind paying you handsomely for a job well done.
Where do you find clients like this?
And, how do you attract them and get them all fired up and happy about hiring you?
I'll show you how this is all possible in just a minute, but first let me share with you a question I get asked all the time …
"What does it REALLY take to live the writer's life? Not the stuff you talk about on stage … I mean the REAL secrets to getting clients and making a ton of money."
For years, when that question came at me, I just stood there speechless. I didn't know what to say.
I had created a great income with a great lifestyle, but I was like so many successful people … unconsciously competent … meaning, I did it, but didn't know HOW I did it!
Yes, I knew the general ideas, but not the details … at least, not well enough to teach.
And that bothered me.
What bothered me even more was that it didn't seem like anyone had a great answer.
Yes, there were other people out there that had marketing programs …
Lots of people were talking about finding clients …
And even more were bragging about having a zillion clients …
But it didn't seem like anyone had a step-by-step, simple, clear system that would answer the question … "What does it REALLY take?"
I decided to change that.
My focus for the past five years has been answering that question with a single piece of paper.
I went on a mission to unlock all the secrets of finding great clients and boil them down to a single checklist and roadmap I could hand to someone when they ask me that question.
Right now you might be thinking …
"But, Joshua, you can't build a successful business and live the writer's life by following ideas on a single piece of paper. It's too simple!"
Is it?
How many success stories have you heard of that sprang from a simple drawing or a few notes on a napkin?
Tons! It happens all the time.
The story is a familiar one, right?
Couple of business partners go to lunch. They get talking. Ideas get flowing. And … BAM! It hits them! One of them hastily sketches down his ideas on a napkin and they both become rich and famous.
So, yes, it really can be that simple!
(I did it! I have the list with me right now!)
And, no, that one little piece of paper doesn't have all the minute details and how-to steps … but the core secrets are there.
The first step … the second step … the third step … in fact, all of the essential steps are laid out.
You just need to figure out how to take each step … and when you do, you'll reach your journey's end, which is living and enjoying the writer's life.
I created this one-page checklist, because I want you to win! I want you to live a wonderful life. And, I know you can do it!
But, I also know that if you don't have this checklist, you could spend years floundering around, wondering where all the clients are! There's no need for that …
So, what is on the list?
The "what you REALLY need to know" list consists of 12 major points …
And these points are easily broken down into weekly action plans, with each point being doable in a week's period of time.
Yes, some can be done faster … others will take a little longer … but in 12 weeks, just about anyone can lay a solid, prosperous foundation for living the writer's life.
For example, point #3 is "Niche Focus."
Many writers spend weeks and months and even years chewing on the "niche" bone.
Should I have a niche and specialize? Or just be a generalist?
What if I choose the wrong one?
What if I get bored? I don't want to feel locked in!
How do I know if there is any money in that niche? What if there are too many writers already there, and no one will hire me … then what??!!!
But, in reality, I can help any writer decide on a niche in about 15 minutes.
The reason this is such a complex and frustrating question for so many is that they really want to live the writer's life …
And, they know they need clients to do that …
And, they don't want to waste their time running down a dead-end road that will cost them time and money.
The hesitation and uncertainty comes from not knowing what a profitable, prosperous niche actually looks like.
But, that is easy!
Here's what a profitable niche looks like:
A profitable niche is a group of people that:
Are easy to contact
All speak the same business or social jargon
Currently use the kind of writing you're selling
Have money to pay you
You can look at any niche, compare it with those four points, and know if you're making a good choice.
It can be done in about 15 minutes.
Simple.
But, then there are other steps in the 12-Point Checklist that take a little longer …
For example, look at #5, "Professional Proof: Writing Samples."
It's obvious that you need to have writing samples and other "proofs" that you're a professional … but, you're not likely to write all that up in 15 minutes.
In fact, it might take you longer than a week … but, it should never take you more than two weeks.
If you know who you're writing to, what you're writing, and how to package it all up nice and professional like, then it's not too hard to get it right … a week or two, tops.
I could go on, but you see the point, right?
Some steps are fast … others are slower (but not too slow) … so that in about 12 weeks, you can lay the foundation and start getting good, solid clients.
I want to help you get there … I want to see you living the writer's life. It's an amazing life!!!
I wish I could describe it to you in a way that helped you to see how wonderful the freedoms of the writer's life can be. But, I don't think I can. I think it's like a good dessert … you just have to taste it for yourself!
And, to do that, you'll need to know what it REALLY takes.
I've shared with you two of the 12 points, and now I'd like to give you the rest of the list.
Would you like that?
Yes?! Great!
Because on February 16th, I sat down with Heather Robson and walked through every point on the checklist, explaining what each step is, why each one is important, and giving examples of how you can use them to land great clients. We recorded the whole thing, and now I want to share this training session with you.
Sound good?
For Wealthy Web Writer Platinum Members, there's no cost for the training session, and there never will be. It's just my gift to you. But, here's the really good news. Even if you're not a Platinum Member, for the next week, you can access this training completely free. But, only for one week. On March 2nd, it goes back to Platinum Member access only.
I even give you a PDF of my 12-Point Checklist, so you can print it, put it next to your computer and work through it step by step.
(I love checklists like that! They help me have clarity on where I'm going and help me see my progress! Feels great to have confidence and make progress, doesn't it?!)
You can access the webinar and the 12-Point Checklist here.
Remember what Paul said …
"It's a crazy and unfair world out there …"
Well, now the balance can swing in your favor. I'm going to show you the secrets that give you an unfair advantage.
While thousands of other writers are begging for $25/article projects on UpWork, you'll be commanding large fees and truly living the writer's life.
You'll be living life on your own terms.
Are you ready? Let's go together and find out what it REALLY takes!
Click here now to learn in-depth each of the 12 steps in my 12-point plan to get you ready to land clients!
This article, What it Takes to Get Great Clients, was originally published by Wealthy Web Writer.

The Professional Writers' Alliance
At last, a professional organization that caters to the needs of direct-response industry writers. Find out how membership can change the course of your career. Learn More »

Published: February 24, 2016