Bootcamp First-Timer to Return to Hire Copywriting Team in 2016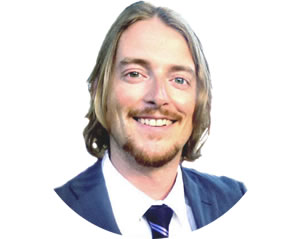 Jeremiah Magone
After years of working on writing projects like novels and screenplays on the side, Jeremiah Magone discovered copywriting through AWAI. That was three years ago, and since then his life has changed. He's enjoyed the opportunity for more income, more freedom, and the ability to work on projects he's passionate about in the hospitality industry.
His main client is a company that provides tools to help hotels effectively market themselves and get more direct reservations. He met one of the founders at a travel trade show.
"I followed up and expressed an interest in learning more about his product. After a demo and a few coffees, we started carpooling to travel-trade shows in California and Arizona," explains Jeremiah. "On those long car rides I applied the research process that I've learned and made my own through the AWAI courses. That meant listening a lot … showing that I understood his challenges … and simplifying his technical explanations with stories and emotional appeals where I could. I tried not to talk about 'copywriting' or 'this is how we do it in direct response,' so much. I just tried to show him that I understood why his product was 'life or death' essential for his target customer."
Jeremiah officially works in sales and lead generation in the company. But through a unique partnership, he's also able to provide copywriting services like web copy, email marketing, and content marketing as a freelancer to the hotels they work with. And many have taken him up on the offer.
"For example, last week I just landed a one-year retainer deal with the Wyndham Peachtree Conference Center to do their Facebook posts," says Jeremiah. "Coming up, I'll get to interview the chefs, find out where the best fishing spots are … and, in June, I've even got a trip planned to gain a little first-hand experience.

"There are new opportunities every day. Last Monday morning, for example, there was a call from a current customer in Turks and Caicos, Bahamas. She was desperately looking for someone to help her put together a marketing plan. 'This one's for you,' the company's VP whispered to me as he was talking with her on the phone. 'Yes. We can do that,' he told her, 'In fact, I have someone who works with me who specializes in copywriting.'"
Jeremiah goes on to say, "We're now discussing using this client in Turks and Caicos to build a case study and then start marketing my copywriting services to GuestCentric's other clients. That's 2,000 boutique hotels all around the world!"
With all those potential projects and another 1,000 clients to be added to his company's roster in 2016, Jeremiah notes that he can't even begin to do it all as far as copywriting. He's going to need help. And he plans to look to his fellow AWAI members to work with him. "Job Fair at Bootcamp is the ideal place to meet them," says Jeremiah. And he plans to hire up to 12 writers there.
All in all, Jeremiah is pleased with the writer's life.
"I'm happy to say that the learning process never ends," says Jeremiah. "There's always more and more to discover about persuasive writing. And as I do that, it's nice to feel appreciated (by some at least) at a deeper level than with writing that's done for entertainment. That's because copy means a lot in our client's lives. It can help them pull their sales numbers up … reduce the stress and investment in making presentations … and help them keep the customers coming to them, instead of wasting so much time hounding them down.

"These are the kinds of results that give me satisfaction, and that's why I love waking up at 5 a.m. to fire up the computer, open up my toughest project, and go to work! Though, I admit, it also felt pretty nice to buy my wife a Mercedes for her birthday last December …"
See you at Bootcamp, Jeremiah!

The Professional Writers' Alliance
At last, a professional organization that caters to the needs of direct-response industry writers. Find out how membership can change the course of your career. Learn More »

Published: March 11, 2016