Live: The Barefoot Writer March Issue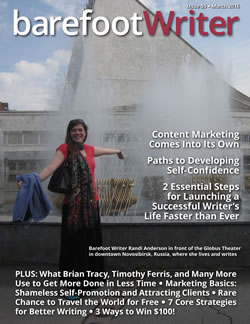 "With great power, comes great responsibility."
Ever heard that line? It's from the 2002 Spiderman movie, and it sums up the life of the paid freelance writer pretty darn well.
You'll find out how on page 2 of this month's Barefoot Writer. Along with that, you'll discover:
2 Essential steps for launching a successful writer's life faster than ever
Marketing basics, including shameless self-promotion and attracting clients
What Brian Tracy, Timothy Ferris, and many more use to get more done in less time
7 Core strategies for better writing
One writer's rare chance to travel the world for free
Click here now to read your March issue of Barefoot Writer.
Not a subscriber of Barefoot Writer? Click here.

The Professional Writers' Alliance
At last, a professional organization that caters to the needs of direct-response industry writers. Find out how membership can change the course of your career. Learn More »

Published: March 4, 2016