9 Tips for Writing Email Subject Lines That Boost Open Rates

It doesn't matter if it's a website page, a white paper, or a landing page, we spend a lot of of our precious time writing body copy. We're so focused on the CONTENT that we don't think about the "outside edges" of our work.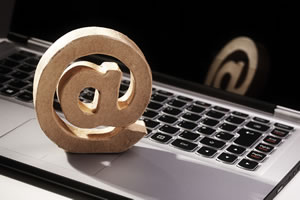 The outside edges are things like the headline at the beginning or the call to action (CTA) at the end. Or, in the case of emails, the subject line.
But, in the case of emails, that subject line is the most critical bit of copy you'll write. After all, it won't matter how great the content of the email is if no one opens it, right?
Good email subject lines are powerful weapons in your web-writing arsenal.
The words you choose for your subject line can have a big impact on whether the hard work you put into the rest of the email pays off. Here are nine ways to boost your open rates and get your emails read by the right people:
1. Keep it short. Remember, the real reason for your email is contained in the message itself, so there's no need to put all the information in the subject line. Get readers to open it with a subject that's short and sweet. Less than 50 characters is ideal, so the entire subject line will display in your reader's email browser. (That's a sweet spot of about 5-7 words.)
2. Be specific. For transactional emails with clients or people you already know, a specific and to-the-point subject line gets their attention and sets up their expectations for the content of the message. LinkedIn does this well with their emails about profile views: "John Smith and 3 others viewed your profile."
For newsletter or ad hoc emails, use words that pique your reader's interest and curiosity. CrazyEgg does this by asking questions in their subject lines: "Got 5 seconds? Could you please tell us why you didn't continue with CrazyEgg?"
3. Give'em a deadline. Phrases like "today only" or "this deal is going away Friday" encourage your reader to act now, rather than run the risk of forgetting about your offer before the deadline.
4. Include benefits. Show off how your reader will benefit if he opens your email. For example, "Increase email open rates with these 5 tips" is more appealing to a reader than "5 Email Marketing Secrets."
5. Personalize the subject line. This goes beyond the usual "Hey Julia, here's the next … " type of subject, and instead kicks it up a notch. Use your customer attributes and actions to tailor the subject line and really get his attention. Try things like:
Geographic information that shows your knowledge of where your recipient is. E.g., talking about the weather, season, or holidays around the world.
Action information that shows you noticed what the reader did on your site in a previous visit. E.g., a subject line that mentions a product he may have browsed on your site, or a social media message he may have shared with his audience.
6. Omit the spammy words. Aggressively sales-y words are often marked as spam by email providers. So, avoid exclamation points, ALL CAPS, and overtly promotional words like "Buy now" and "Free." Instead of focusing on the promotion part of your email campaign, try offering your expertise by sharing information your reader will find useful.
7. Try giving a preview. Draw your reader in with a preview and save the punchline for the email body. Think of it like giving your reader the "movie preview" version of your email. For example, "Destination Weddings … Wanna get rock star treatment?"
8. Make an announcement. Channel the enthusiasm you have for your exciting news in the subject line of your email. That kind of emotion is contagious and will get it opened more quickly. It has the added bonus of making your reader feel like you're letting him in on the secret before anyone else, which makes him open it even faster.
9. Use multimedia. No, you can't embed a video in the subject line, but you can tell your reader you're sending him a video. That way he knows exactly what he'll see when he opens the email. And, if he's somewhere he can't watch it just yet, he's not annoyed because it auto-played when he opened it. You'll move your email marketing into the future by hopping on the video bandwagon, showing you're aware of the trends out there.
Join the exclusive email marketing club
Use these nine tips and you'll see your email open rates steadily increase. In fact, your emails may become part of the 35% that some readers open based on the subject line alone. Who wouldn't want to be in that exclusive club? I know I would, and so would my clients.
What other tips would you use to increase your open rates? Share them in the comments.
This article, 9 Tips for Writing Email Subject Lines That Boost Open Rates, was originally published by Wealthy Web Writer.

The Professional Writers' Alliance
At last, a professional organization that caters to the needs of direct-response industry writers. Find out how membership can change the course of your career. Learn More »

Published: March 9, 2016