How Being a Social Media Expert Can Build Your Web-Writing Income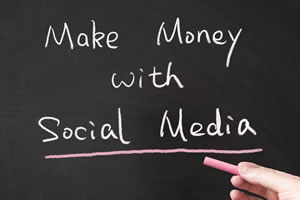 Social media is one of the most entertaining aspects of online marketing.
It's been wonderful in the way it's forced businesses to become more personable, to reveal their human side, to contribute to their communities, and to engage with their audience and customers in a more real way than anything we've seen in the history of marketing.
Still, many web writers hesitate to jump into social media, because they're not sure how to use it to make money and grow their business.
Of course, you could decide to make social media your specialty and just focus on that for your clients. But, even if that's not your cup of tea, you should still know, understand, and use social media, because it will make you a better web writer. And, it will open the door for new money-making opportunities.
In fact, there are three ways you can use social media as a web writer to grow your business and your bottom line without making social media your sole focus.
Let's take a look …
Supplement Your Freelance Web-Writing Income
Part of making your clients feel confident about working with you is their belief that you're current with what's happening in online marketing. And, social media has become a key component of almost every kind of online marketing.
By understanding social media and being active on networks like LinkedIn, Facebook, and Twitter, you show your clients you're ahead of the game in terms of your knowledge of how the web works.
Plus, you can use your social media expertise to offer new services that will help make your existing services more effective and that will add to your project fees.
A few things you might do for a client:
Write social media profiles.
Write tweets and status updates to support a blog post you've written.
Write an email campaign to help them grow their Facebook audience.
Adapt their existing content into videos or slideshows for greater social reach.
Write a product review that's optimized for social media.
The possibilities are endless. And, in many cases, you're building on projects your clients are already asking you to do. It just makes sense. You'll deliver better results. You'll have happier clients. And, you'll get paid more.
Land More Clients
Even if you don't offer social media services to your clients, that doesn't mean you shouldn't use social media for all its worth in order to land more clients for the web-writing services you do offer.
The simple fact is trying to promote your freelance web-writing business with a website alone is tough. You absolutely need a website. It's your business brochure. It's where your prospects go to assure themselves you're the real deal.
But, how will those prospects find you? Do you want to leave that to Google?
With social media, you can take a more proactive approach and get a ton more traffic to your site. Along the way you'll be building connections, capturing leads, and establishing yourself as an expert.
It takes four steps to do this:
Start connecting with people who fit your client profile. Follow them on Facebook and Twitter. And, once you have connections there, look for them on LinkedIn.
Write good-quality content and share it with those prospects through your social media channels.
Create more personal engagements by retweeting what your prospects are saying, by sharing their content, and ultimately by reaching out to connect via email.
Watch for their needs and pain points. If you can provide a solution, ask to have a conversation—it could result in a new client.
Promote and Grow Your Money-Making Website
If, like many web writers, you also have a website designed to generate a passive income stream, then there's a third way social media can help you build up.
To earn a healthy income from your Money-Making Website, you need traffic. When you use it properly, social media can generate more traffic than the search engines.
In many ways, the process of using social media with a Money-Making Website follows much the same path as when you're using it to promote your freelance business website.
There are a couple of important points to cover, though.
First, when you use social media to promote your Money-Making Website, create new and dedicated accounts for that site. If you have a Facebook business page for your web-writing services, for example, that's not the place to start sharing landscaping tips or recipes for pet treats.
Create new accounts, with a distinct avatar and message, all dedicated to your site or topic.
Second, follow the same four steps you used to promote your freelance business except, instead of watching for potential pain points with the intent of starting a conversation that might result in a client, watch for pain points you can use to create valuable content you can then share to attract more traffic to your site.
Social media is here to stay, and as a web writer, you can use it to benefit your business—even if you don't choose to offer social media services. All you need to know are the basics of how social media works, and you'll have a powerful tool for bringing traffic to your site, capturing leads, growing your reputation, and increasing your income.
This article, How Being a Social Media Expert Can Build Your Web-Writing Income, was originally published by Wealthy Web Writer.

How to Make Money as a Social Media Marketing Expert
Everything you need to know to become a social media marketing expert, as well as four different ways to make money using that expertise. Learn More »

Published: April 27, 2016