Facing Down the Twin Imposters Holding You Back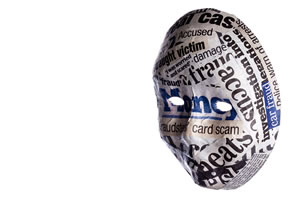 "If you can meet with triumph and disaster, and treat those two impostors just the same; yours is the earth and everything that's in it." – Rudyard Kipling
Imagine you launch your web-writing business. You dedicate yourself to making connections, you follow up diligently on leads, and you land a client within the first month. It's a good client, too. One who needs a lot of work done, and you're happy to do it. You're eager to impress, so you promise to deliver on time, even with aggressive deadlines. But to make that happen, you have to put your marketing efforts on hold.
You let your success undermine your longer-term goals. It gives you short-term gain, but in the end your business suffers for it. As soon as the project is done, you have to start marketing all over again. You fall into a pattern of fits and starts. Your business does okay, but it never really grows into what you thought it would.
Or, how about a different scenario? Imagine that you specialize in writing special reports. You meet with early success landing clients. And your reports, mostly used for list building, deliver good results. But the market starts to shift. Infographics and video tutorials are beginning to work better as bait pieces. But reports have worked for you, and you resist changing as the market changes.
If you latch on to any single success as your Big Break, then you'll be missing all sorts of other opportunities. And chances are you'll find yourself back at square one with your business a little more often than you imagined was even possible.
Failures are just as dangerous.
Imagine the same scenarios as failures rather than successes.
In the first, you've just launched your business. You're making connections and following up. But instead of landing a big client, you get a couple of weeks into your efforts with no leads at all. You decide you're a marketing failure.
Instead of analyzing what you're doing and what you might do differently, you decide you're not cut out to be a freelancer and you start job hunting.
In the second scenario, you're writing special reports for your clients. But, what if your first few reports don't deliver good results? Do you decide special reports aren't for you?
Letting any given success or failure become a defining moment is hazardous to your business health. In the opening quote above, Kipling refers to success and failure as imposters who deserve equal treatment. It's good advice, even if it sounds a little odd on the surface.
What should you do when you succeed or when you fail?
The first step in dealing with a success or a failure is recognizing it as an imposter. But what does that even mean?
It means that we tend to zero in on our triumphs and on our setbacks. We let them define us … become who we are. We decide they are permanent.
Have you ever met someone who's had a great success 10 or more years ago and still clings to it? In every conversation, he dusts off his decade-old achievement and holds it up with a mixture of pride and bitterness, looking for you to tell him he's still relevant, when he doesn't believe it himself.
Most of us have met someone like that. Heck, many of us probably have had moments where we recognize ourselves in that picture.
On the other side of the coin, have you ever met someone who tried something only to have it come crashing down around her? And years later, she still holds that failure up as a shield against trying anything new.
Again, I bet that's a familiar picture.
Your best defense against finding yourself in a similar place is to not think of yourself as the sum of your accomplishments. You are much more than that. You have a unique personality. You have insights and values and a voice and a purpose that is wholly your own. Your successes and failures may contribute to all that, but they aren't the sole measure.
So, your first step whenever you have a success or failure is to recognize it as temporary. A part of your story, but not all of your story.
Your next step is give yourself permission to feel it. If it's success, celebrate. Call your friends and family. Post on social media. Write it up in your blog. Put on music and do a victory dance in your living room.
If it's failure, give yourself permission to wallow. Rant about how unfair the world is. Shake your fist at the sky. Go beat up the heavy bag in your garage. But give yourself a time limit to get it out of your system. (For whatever reason, celebrating seems to run its course naturally, while it's easy to get stuck wallowing.)
Finally, decide how you will build on what you've learned. Both success and failure are excellent teachers if you allow them to be. And, they both almost always reveal new opportunities. Look carefully at what you've done and why it did or didn't work. Look even more carefully for the opportunities hiding in what you've learned.
Then make a plan to move on … knowing that whatever the outcome, it won't be permanent, but it will almost certainly be worthwhile.
This article, Facing Down the Twin Imposters Holding You Back, was originally published by Wealthy Web Writer.

The Professional Writers' Alliance
At last, a professional organization that caters to the needs of direct-response industry writers. Find out how membership can change the course of your career. Learn More »

Published: April 6, 2016