How Social Media Writing Opens the Door to More and More Work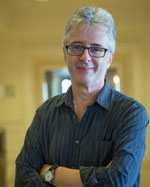 Nick Usborne
On Wednesday, I told you how you can snag some amazing monthly retainer deals by pitching your services as a social media writer.
Retainer deals are great because they provide a steady, regular monthly income, and even out the cash flow dips that plague so many freelancers.
Today, I'll explain how to use these social media retainer deals to boost your income even further.
Yes, it just gets better and better.
First, you land one or more social media writing contracts, and then you use those contracts to land some additional, high-paying projects.
Example #1 …
When you're creating updates and tweets for a client, you'll often find yourself writing about and promoting the latest web content your client has just published.
Maybe your client just put up a post about how Omega-3 keeps a woman's skin looking young. And part of your job for the day will be to link to that page of content on Twitter and Facebook.
Over time, you'll develop a deep insight into your client's content marketing efforts. You'll see which content drives the most click-throughs and Likes from Facebook, and which generates the most replies, retweets, and Likes through Twitter.
In other words, after a while, you'll know better than anyone else which kinds of content work best and drive the most engagement.
At that point, you can turn to your client and say something like, "Hey, I just wrote up a two-page report on how to optimize your content marketing efforts. It identifies which types of content give you the most traction on social media."
Once you have impressed the heck out of your client with that report, you follow up with, "Given my intimate knowledge of what works best for you, would you like me to start writing some of your web content?"
Boom … you just landed yourself some new work, in addition to your existing retainer deal.
Example #2 …
Something else you'll be doing for your clients on social media is helping them feed their sales funnels.
You grab people's attention through the client's social media channels, and drive prospects to some web content, or maybe directly to a sales or subscription page.
In other words, you are taking a lead position in helping them drive sales.
Again, over time, you'll build some keen insights into what works and what doesn't. How so? Because as the person handling social media, you'll have access to tracking and reporting tools that tell you exactly how well a given social media campaign is doing.
Now, you do the same as you did when you picked up those content-writing gigs.
You write up a two-page report, wildly impress your client, and then suggest they use you to write their sales emails, landing pages, or sales pages.
And why not? You are a trained copywriter with unique insights into their prospects and customers.
Why this works …
As their lead on social media, you get to see the big picture. You get to learn a huge amount about your client's customers.
Even the simplest tracking tools, such as those provided by Facebook under the "Insights" tab, tell you a great deal about every single update you create.
The trick is to be a little patient. First you invest your time in doing a really, really good job with their social media. It's fun work and you're being paid by retainer. It's all good!
Give yourself two or three months doing just the social media. That will give you the time to become a real expert on both their content marketing strategies and their promotional strategies.
It's only then that you step up and offer some other writing or copywriting services.
Now you have your base retainer fee taking care of all your income needs … plus additional fees for doing some of their content and sales copywriting work.
Social media writing alone can earn you an amazing and predictable annual income.
Leverage your work in social media, and you have the perfect segue into doing more and more work for the same client, and massively increasing your total income.
It doesn't get any better than this!

How to Make Money as a Social Media Marketing Expert
Everything you need to know to become a social media marketing expert, as well as four different ways to make money using that expertise. Learn More »

Published: April 29, 2016