Live: The Barefoot Writer April Issue
By Mindy McHorse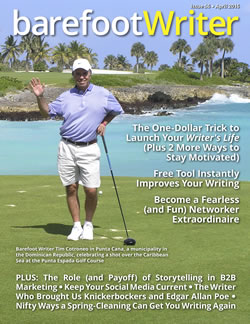 Springtime often pushes writers in one of two directions: Either you're energized at the change in seasons and your writing goals are within grabbing distance …
Or you're distracted and unsettled, torn between wanting to hunker down and write versus throwing your hands in the air and sprinting outside to the warmer weather without a backward glance.
Your April issue of Barefoot Writer shows you how to cope with both extremes, whether that means digging into writing like you've never done before or stepping back for a solid "spring cleaning."
You'll also learn about …
• Surprising tips to become a fearless (and fun) networker extraordinaire
• Easy ways to keep your social media current — even without an Internet connection
• How one writer increased her net worth through resumes without getting paid
• The role (and payoff) of storytelling in B2B marketing
• A free tool that instantly improves your writing
And, don't miss our interview with delightful author and copywriter Lynn Biederstadt. Even I was surprised by some of her advice …
Click here now to read your April issue of Barefoot Writer.
Not a subscriber of Barefoot Writer? Click here.

The Professional Writers' Alliance
At last, a professional organization that caters to the needs of direct-response industry writers. Find out how membership can change the course of your career. Learn More »

Published: April 1, 2016