Why Loosening the Niche Knot Makes You a Better Writer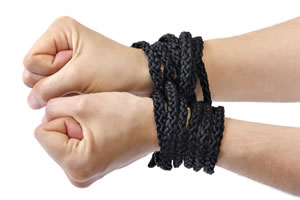 The advice to choose a niche pops out from every corner of the writing world. Experts and established copywriters will tell you to choose something super-specific if you want to find success faster. It's great advice.
But for me, the idea of choosing a niche feels like someone is tying my hands behind my back and tightening the knot so I can't break free. Nod if you're in this camp, too.
Now I admit, limiting myself to a single industry triggers fear. If you read enough self-help books, you know one of the most primitive parts of our brains, often termed the lizard brain, is the birthplace of fear. Just because it's primitive doesn't mean it isn't creative. It can disguise fear in every shape and color imaginable, such as fearing the tight knot of the niche.
Niche Fear #1: I'm Going to Be Stuck!
The first disturbing loop of the knot is the idea that you're going to be stuck doing this one thing forever and always. What if you fight your way into the financial niche only to discover you really hate writing about stock market fluctuations? Or advertise as the expert on mobile technology and learn that investigating all the new gadgets induces migraines?
A fun fact here is that even though you're niching down, you don't have to refuse clients who ask you to work outside of your niche. Although my focus is on environmentally oriented new technologies, I do plenty of work for self-help and health and wellness clients. While my focus is web writing, I also keep busy with white papers and training manuals.
Choosing a niche doesn't mean you're giving up variety in your work. It just means you're choosing a way to focus your marketing message so it's more effective.
Niche Fear #2: There's Only One Niche I Can Succeed In
Every knot needs a second loop, and if you're like me, it'll be formed around the advice about how to choose your niche. Most advice suggests your perfect niche is at the intersection of your experience, your existing skills and abilities, and who you know who needs writers in that niche. My brain reads that and transforms the information into a Venn diagram in which the "Experience" bubble almost completely overlaps the "Skills" bubble, and both of those almost completely overlap the "Contacts" bubble, like this: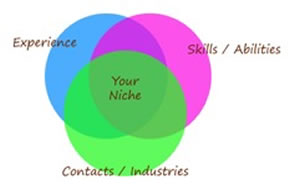 While the section where the three circles meet is your best path to success, my mind translated that to mean the only path to success.
My experience as a writer has been widely varied — journalism, magazines, academia, grant writing, to name a few — and I didn't feel I had enough experience in any particular field to call myself an expert. Chances are, you have a wide variety of experience, too, and struggle to choose just one that stands out.
Rather than realizing I had many experiences, any one of which could be acceptable as a niche, my lizard tossed it all out as not being a perfect fit.
The mistake I made was in my interpretation of the Venn diagram. You don't have to focus just on the intersection. Your niche can be in any of the three bubbles, and each bubble can be defined with more flexibility.
Experience can also refer to interests or hobbies. If there are areas you want to learn more about, they can fit here, too, even if you don't yet have any direct experience. Skills can be defined by what you already know how to do, but also by what you'd like to do and what you're learning to do. Contacts can be expanded by going out and meeting new people, asking people you know for introductions, or exploring industries you'd like to work in.
That all adds up to a dramatically different — and more interesting — picture: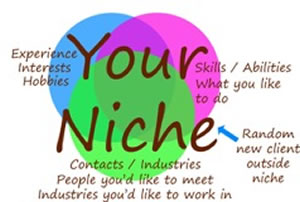 This changed picture is much more flexible, allowing you to explore the possibilities within each independent bubble, as well as the sweet spot there in the middle. It also leaves room for those random individuals that hear you're a writer and seek you out for help.
Until I changed the picture in my head, it was impossible for me to narrow down to something specific.
Looking at the possibilities with this new flexibility in mind helped me to choose a focus. Now, with a niche in mind, it is possible for me to take a targeted approach to finding new clients, but, I also recognize I can accept clients from outside my niche with ease and confidence.
As you're trying to figure out your niche, see if looking at the picture with a more open mind helps you relax. Choosing a niche is not a noose around your neck. It's a lasso to help you rope in new clients.
Does the thought of choosing a niche scare you into inaction? Share your tricks for overcoming the mind freeze in the comments.
This article, Loosening the Niche Knot, was originally published by Wealthy Web Writer.

The Professional Writers' Alliance
At last, a professional organization that caters to the needs of direct-response industry writers. Find out how membership can change the course of your career. Learn More »

Published: April 20, 2016