My Emergence from the Dark Ages into Today's Internet World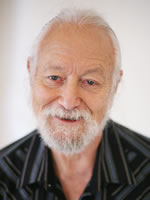 Will Newman
I've been a bit goofy these past two days. And that goofiness helped push me the final few steps out of my self-imposed dark ages.
Let me explain …
My wife Linda just returned after a two-week absence. She'd been helping take care of her 93-year-old mother who'd had the flu.
But with Linda's return, I couldn't find the concentration I needed to write. Instead, we've spent the time getting back into the swing of our life of 45 years together.
We decided to stop at a favorite coffee shop for salad … and our regular turn at The New York Times crossword. 62-across: Symbol of modern communication? Answer: Hashtag.
Our server, Jennifer, told us about a friend she contacted after a four-year gap. How'd she do it? Facebook.
In the course of an hour, I heard Reddit, Twitter, LinkedIn, and email mentioned. And we weren't in Starbucks. We were in a small coffeehouse in very rural America.
The world, communication, and life have changed. And so has copywriting.
About an old dog and new tricks …
Only trouble is, I've been hesitant to follow the times. Oh, I do email, and I designed my Rotary club's website. But I never really got into looking at the Web as someplace I would use much for my career.
That's changing … and not just because of my time with Linda in the coffee shop. I've been researching the new landscape the Internet has carved out for us copywriters.
Back when I was a copywriting puppy — 20 years ago — direct mail came through the mailbox in your door. #10 envelopes. Magalogs. Bookalogs. Self-mailers. Postcards. That sort of thing.
Copywriters wrote. Companies mailed. The post office delivered.
But today, web copywriting accounts for more than half of direct marketing. It also provides far more opportunities and pathways for businesses to promote themselves. And far more opportunities for old dogs like me.
The reality in the numbers …
I don't want to bore you with a lot of numbers, so here's just a quick peek into why I'm moving out of the dark ages of copywriting.
The consulting firm Winterberry Group advises clients like Adobe, Citi, and HP on advertising, marketing, and media. In 2013, they advised clients that spending on direct mail would decline by 0.9% to $44.8 billion.
That's still a hefty chunk of money. More than enough to support old dogs like me. But the kicker was that all direct and digital marketing would rise by 5.9% to $137.2 billion. Digital marketing — and with it, web copywriting — is pushing that surge.
The Direct Marketing Association stated that in that same year, more than three million marketing messages were sent monthly. And this trend grows every year.
What a wake-up call! How can I ignore reality?
This reality: If you want to be a successful copywriter today, you must understand this changing landscape of copywriting. So this week and next, I'm going to tell you what I've been learning about this remarkable opportunity.
And I'm not the only "dog learning new tricks." Tomorrow, an AWAI member tells us his story about learning how to grow by leaps and bounds. I hope to see you then.
I also hope you'll take a moment and give us your thoughts about today's Writer's Life by commenting below.

The Professional Writers' Alliance
At last, a professional organization that caters to the needs of direct-response industry writers. Find out how membership can change the course of your career. Learn More »

Published: April 18, 2016