Master Web Copywriter Nick Usborne: Why Choose the Dead Donkey When You Can Have the Thoroughbred?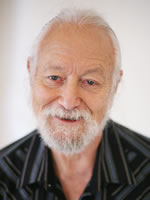 Will Newman
Last week, we chatted about writing for the Web and how it can fuel your drive for the writer's life.
I said at the end of our last article that we'd be chatting with Nick Usborne today about a part of web copywriting that, frankly, scares me …
Social media.
After this interview, I'm less intimidated by social media. And now, I want to learn more.
For now, let's get to my chat with Nick, so he can give you his perspective on the driving force behind today's Internet marketing.
Will Newman: Thank you for taking this time to chat with our readers. Please tell us a little about yourself.

Nick Usborne: Well, I'm a father to four boys, a step-father to one girl, and I have six grandchildren. Even so, I'm as young as a spring chicken! In my spare time, I get away from my desk most days to go cycling or kayaking. In my fantasy future, I have a house by the sea, a dock at the end of my garden, and a nice boat. I love the water. Bigger the better.

And I have a thing for really good coffee.

Will: Have you always been a professional copywriter?

Nick: Nope. I started out working on my dad's farm from about age 8 onwards. That's where I learned to work. My brothers and I never had an allowance. We had to work and lined up at the end of the week to collect our little brown envelopes with a few coins inside.

After school, I worked as a stone mason's apprentice, quarrying stone and doing church restoration carvings.

My least successful job was as an assistant carpet salesman in a store in central Turkey. Over the course of a year, I sold one carpet!

Will: What prompted you to get into copywriting?

Nick: I became a copywriter pretty much by accident. I was 21, sitting on the couch at home, doing nothing. Then my dad gave me $50, told me to go to London and not come back until I had a job. I found a place in London, sleeping on a mattress in the upstairs bathroom of a house where my best friend and a few other people lived.

One weekend, one of the guys was talking about how much fun his job was. He told me he worked at an ad agency. I pulled out the Yellow Pages, found the listing for ad agencies and typed out letters to the first 20 on the list. I got three interviews and one job offer, which I took.

I bounced around various departments, ended up in the creative department, and found my calling as a copywriter. Lucky, really, as I had absolutely no qualifications.

For the first three years, I was a pharmaceutical copywriter. Fun times, because they had huge budgets, which meant lots of long boozy, lunches.

Will: How'd you get started in web copywriting?

Nick: In 1994, I owned a farm that bred groups of endangered breeds of farm animals. So I wrote a website to promote our mission and attract visitors. The website was great, but the overall business model wasn't. Completely wiped me out financially. Good thing I could fall back on copywriting!

Will: Did you have any formal web copywriting training?

Nick: Training? What training? Back in 1994, no web copywriting training existed. There wasn't any web copywriting training. And when I started writing for the Web professionally in 1998, still no training. I pretty much made it up as I went along. I then used that experience to write my book, Net Words, published in 2002.

Will: You're now an acknowledged Master Web Copywriter. Why do you enjoy web copywriting so much?

Nick: It's always changing. I get bored really easily. There's always something new online. So there's always something new to learn and try out.

If I started my copywriting career over, I'd definitely start with the Web. The kind of work copywriters have to do for old media drives me nuts. Truth be told, "copywriting" kind of drives me nuts.

The thing about the Web is you get to do copywriting in a whole different way. It's more conversational. More real. And less about "clever headlines." I hate clever headlines!

Will: You're an expert web copywriting trainer. I've seen you at Bootcamp, and you seem passionate not only about the niche, but also teaching other people about it. Why do you enjoy teaching about web copywriting so much?

Nick: Good question. I can actually help people by teaching them. When someone comes up to me at Bootcamp and tells me something along the lines of, "I took your program and it changed my life," … Wow, that's powerful. Worth getting up in the morning for.

Will: Talking about web copywriting is somewhat inaccurate since there are so many different aspects to it. Do you feel someone interested in writing for the Web should hyper-specialize, for instance, maybe just writing autoresponders? Or should they take a broader approach to their web copywriting career?

Nick: I think it's up to each individual. For myself, I love trying a bit of everything. But like I said, I get bored easily. As a business strategy for a freelancer, it probably makes sense for most people to at least start out with a specialty. It makes it much easier to market your services. It's easier to sell yourself as a master of a single specialty. Tougher to sell yourself as a Jack- or Jill-of-all-trades.

Will: One area that puzzles me as an older guy is social media. How important is understanding social media for someone starting out in web copywriting?

Nick: Ha! The Web IS social media. In other words, it's a social environment. It was back in 1994 and still is today. Social media platforms that've arrived over the last few years have simply amplified its social nature. I think any self-respecting web copywriter should have a reasonable level of expertise in social media. It's so much part of online marketing these days … and its role is growing year by year. It doesn't have to be your specialty, but you should certainly have a solid working knowledge of how it fits into the broader marketing picture.

Will: Do you think web copywriting is a good entry niche for new copywriters? Why?

Nick: Is there an alternative? What, offline copywriting? Why would you want to do that? It's like being given a choice of rides at the beginning of a horse race — choose the thoroughbred or the dead donkey.

Web copywriting is also the perfect way for veteran copywriters to reinvent themselves. You can choose a niche, create a brand for your business, build an amazing website, and be whatever and whoever you want to be!

Will: How long would it take the average copywriter to learn the ropes of web copywriting?

Nick: I think someone from a standing start can master the fundamentals in just three or four months, to give you a level of expertise that's greater than clients you'll be approaching. A lot of people don't believe me when I say that, but it's true.

Will: Could both entry-level and experienced copywriters make a decent living starting out?

Nick: It varies a great deal. A few people are making great money within maybe nine months. It really depends on how motivated you are and how hard you work at succeeding.

Let me give you an example. I used to coach a lady who started out when she was in her mid-50's. She needed a new career and a new income. She was and is a really hard worker.

Once she got her site up, she began reaching out for clients. By month 12, she was making a living. And today, she makes a great living. She isn't the world's best copywriter. But she knows how to work. And that's the secret of any new copywriter's success. If you work hard enough, and take the knocks, you'll break through.

Will: Thank you very much for your time. I'll see you at Bootcamp this year, right?

Nick: Damn straight you'll see me there. I'm looking forward to meeting with what I think are the most committed copywriters in the world.

How to Make Money as a Social Media Marketing Expert
Everything you need to know to become a social media marketing expert, as well as four different ways to make money using that expertise. Learn More »

Published: April 25, 2016