Five Scientifically Proven Words You Should Use in Sales Letters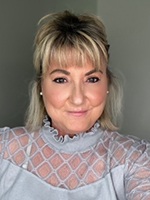 Sandy Franks
My nerd confession: I love history
The science of how words shape reality
Five powerful words you should use in sales letters
You can be part of this special group of writers
I'm a bit of a history nerd, especially when traveling. Several years ago, my husband and I took our two kids to France on a family vacation. Most of my time was consumed reading about Marie Antoinette, the former Queen of France.
I loved learning new bits of information about her life. For example, she was only 14 years old when she married Louis XVI. Unlike during her reign as Queen, in her early years, she was a "teen idol." At one appearance in the center of Paris, a crowd of 50,000 people showed up. The guards couldn't contain the group and 30 people were crushed to death.
I was so obsessed with Marie's life that when we got home, I spent an entire week tracing her family tree to see if there were any descendants alive today. (Interestingly enough I found one possible link to her living in New York).
I have this same nerd-like fondness for words. Uncovering a word's history is called etymology. I'm not an etymologist, but when I come across a new word, I like to look up its origins.
I also want to understand the psychology and science of the words we use. For example, UW–Madison cognitive scientist and psychology professor Gary Lupyan, and Emily Ward, a Yale University graduate student, did a study that was published in the journal Proceedings of the National Academy of Sciences on how words can alter perception.
The two researchers found that for humans, words create our realities. We do this with an inner dialogue of words that we attach to situations, which then in our minds makes the situation a reality.
New studies in what is called "neuromarketing," show we essentially function with three brains:
the 'new brain,' which thinks,
the 'middle brain,' which feels,
and the 'old brain,' which decides based on input from the other two.
Why am I going all "science" on you today? Because if you use the five scientifically-backed words I'm going to share with you, you'll look like a copy genius.
As writers, we know it's easy enough to give people information which makes them think, but it's not so easy to get them to feel. And feeling is important because when people buy, they do so with emotion.
That's why using the right words in sales copy matters. Dr. Frank Luntz, author of Words That Work: It's Not What You Say, It's What People Hear knows the power of choosing the right words well.
Several years ago, he was hired as a linguistics consultant for the Republican Party and helped coin some now household phrases such as his branding of the estate, or inheritance, tax as the "death tax," and "climate change" which sounds natural, instead of "global warming," which sounds scary.
Dr. Luntz says, "80% of our life is emotion, and only 20% is intellect. I can change how you think, but how you feel is something deeper and stronger, and it's something that's inside you. How you think is on the outside, how you feel is on the inside."
So, to look like a copy genius what five words should be in your copy? Let's start with the one everyone knows:
1. You
In a Yale study, the word "you" ranked as the number one, most influential power word in English.
Using "you" shows empathy, which is necessary to convince someone that what you want and what he or she wants are mutually beneficial. The only way to boost the power of "you" is to replace it with your prospect's actual name.
Or, as Dale Carnegie put it so simply: "Remember that a person's name is to that person the sweetest and most important sound in any language."
2. Authentic
3. No Risk
4. Money-Back Guarantee
Power terms like these three inspire confidence in the product. Prospects are more likely to buy because of the implied understanding that the situation will be made right if a problem arises.
These are also terms that create trust. When your prospect trusts you, he or she is more likely to take the action you want: Pull out their credit card and buy the product or service you are selling.
5. Imagine
When you ask your prospect to buy something, his or her natural reaction is to find a reason to disagree.
But this doesn't happen if you ask them to imagine something, especially if you ask them to imagine the outcome of the sale (the benefit), rather than making the purchase itself.
As strange as it may sound, the brain literally cannot tell the difference between imagining reality, and actually experiencing reality. As far as your brain is concerned, there's no difference between visualizing a rainbow, and seeing a rainbow.
This makes your prospect's imagination a powerful ally and one you should be taking advantage of in your copy. Take a look at this sales letter that uses the word "imagine" in the opening paragraph: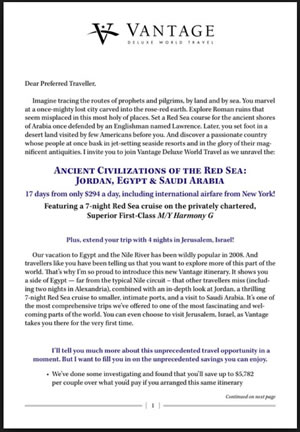 Your takeaway: Find a way to use all of these words in your next copy project.
Here's a writing tip: If you're ever stuck when writing the first sentence of your sales letter, start with the word "imagine." From there, other ideas will flow.

The Professional Writers' Alliance
At last, a professional organization that caters to the needs of direct-response industry writers. Find out how membership can change the course of your career. Learn More »

Published: May 9, 2016