"I Can Improve the Quality of My Books and Enhance My Financial Status … All While Helping Causes I'm Proud to Support."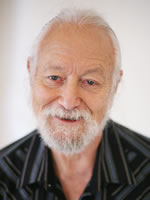 Will Newman
It's really great seeing you back here today. This week, we've touched on some essential secrets of copywriting that Circle of Success members learn in the Targeted Learning Programs. (Click here, here, here, and here if you've missed any of those articles.)
To finish off this week, we're going to visit with COS member Jerry Levin to find out why he's becoming a copywriter.
Jerry has many eclectic interests. He enjoys reading, writing, and speaking … especially about personal development and spiritual topics. At the same time, he has a deep fascination for science and the relation of quantum physics to spirituality and consciousness.
When Jerry first contacted me, he said that he'd retired twice. His first career was on the faculty of a medical school where he taught and researched pharmacology for over 30 years.
After retiring from that career, he made a huge switch and became a Licensed Massage Therapist.
After spending three decades in Western medicine, Jerry now enjoys learning about complementary health and what it offers for supporting and healing of chronic health problems and generally maintaining wellness.
Jerry loves spending time with his wife and friends. He has three adult children and four grandkids and relishes any chance to be with them.
I asked Jerry why he'd chosen to become a copywriter. So …
Jerry, in his own words …
I started writing a nonfiction book entitled Affirmative Prayer. I wanted to help readers incorporate the ideas into their lives. In the process of trying to write this kind of encouragement, I discovered AWAI.

As I began reading more, I discovered copywriting was really persuasive writing — writing designed to get readers to take a desired action. Eureka! Just what I needed for my books.

I was also attracted to AWAI by the possibility of substantially improving my retirement income. While I'm fortunate in having enough to meet our needs, it'd be nice to be able to better support causes we believe in, go on more vacations with family, and support my mother-in-law if that becomes necessary.

I now realize I can improve the quality of my books and enhance my financial status all while helping causes and organizations I'm proud to support. That's a win-win-win!

After joining AWAI, I made the logical choice of joining COS. How could I not make this choice? I get access to the full library of AWAI resources (with a few exceptions … and even those come with significant discounts).

Plus, there's repeated access to the Targeted Learning Programs. The Headlines course was great and the Leads course is looking to be every bit as good.

I joined for two more reasons. First, as a professional educator over 30 years, I've never seen such a large set of EXCELLENT programs. Excellent teachers who are masters at what they teach. Well organized, well written engaging instructions. And excellent exercises throughout each program. It's an unbeatable combination.

Second, free access to two Bootcamps.

As for Bootcamp, I'm so looking forward to being in the same room all day, for several days, with this group of committed students and Master Copywriters. And then Job Fair will provide me with initial exposure to marketers looking to hire copywriters. What an amazing opportunity that will be.
I'm looking forward to meeting Jerry in person when I present at Bootcamp this year. (In fact, of the many things I enjoy at Bootcamp, meeting AWAI members tops the list.)
I did ask Jerry if he had any last words of wisdom for our readers. Once again, in Jerry's own words …
Please, stop holding back. Stop waiting for 'conditions to be right.' PLEASE!!

I've found hundreds of excuses to resist moving forward with developing my copywriting skills. I've been keeping myself from success. There's nothing stopping me but me.

I'm done holding myself back.

Join me on this path. See you at Bootcamp.
Thank you, Jerry!
I'd love to hear your response to what Jerry had to say. And I know Jerry would too. Tell us by commenting below.
I look forward to seeing you next week.

The Professional Writers' Alliance
At last, a professional organization that caters to the needs of direct-response industry writers. Find out how membership can change the course of your career. Learn More »

Published: May 20, 2016