Lessons Learned from a Gray-Striped Cat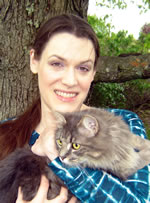 Kate Stelmaszek
Sometimes, you learn the most important writing lessons in places you'd least expect.
I've learned some of those important lessons from a little, gray-striped cat. She's shared some surprising insights with me, and I'd like to pass her lessons on to you.
Let me explain …
Two years ago, my husband and I adopted a kitten we named Arya.
The name originated from Arya Stark, a character in the book and TV series Game of Thrones. Both cat and character share a sassy, playful personality. And a stubborn independence, particularly when it comes to following rules.
Kitty Arya's unique personality makes her a great writing teacher.
What does a cat know about writing?
Writers and cats share a long and affectionate history. Great authors like Ernest Hemingway … Mark Twain … Joyce Carol Oates … Ray Bradbury … and Neil Gaiman, to name just a few, loved cats.
And why not? Cats live creative lives.
Cat Lesson #1: The Secret of Freedom
The first lesson to learn from a cat is simple. A cat's life is really the ideal writer's life. It's filled with freedom to do what they want, when they want.
Cats live independently … unscheduled … on their own terms. Cats don't have bosses or hassle-filled commutes. Their waking and sleeping don't depend on clocks.
Isn't that the kind of life we want? Why we're studying writing? Following a cat's example, we know what we want to create … our perfect writer's life.
Cat Lesson #2: The Secret of Balance
Why take advice from a cat?
Because you're busy — too busy. Chances are, you live like a car nearing empty, speeding through life at 80 mph, for 12 hours a day. Over-caffeinated … under-nourished … exhausted.
But you're not a car. You're human and should be living more like a cat.
Cats don't have jobs, but their days are full. They hunt, eat, bathe, potty, nap, play, and cuddle. And they do it all in a balanced way.
Watch a cat wash herself. She doesn't rush her bathing like you rush through a shower, your mind on the next item on the to-do list.
She washes slowly. She enjoys the bath … relaxes. Her fur — and her mind — come out soft, neat, and clean. Cats take the time they need to do it right.
It's an important lesson. I call it "The Secret of Balance." And it's this: Find the balance between taking care of work, others, and yourself.
How to start balancing your time today
I want you to mark this down on today's to-do list:
"I will find the time to take care of myself. I will make time for eating well, sleeping eight hours, enjoying recreation, and doing everything else necessary for my health. I'll limit or eliminate unnecessary tasks in order to do this."
This is how you put into practice Cat Lesson #2: The Secret of Balance … an essential step on the path to a successful writer's life. I hope you'll start practicing it right away.
But before we close, I have one final question to ask … What would a more balanced writer's life do for you? Please share your thoughts with us by commenting below.

The Professional Writers' Alliance
At last, a professional organization that caters to the needs of direct-response industry writers. Find out how membership can change the course of your career. Learn More »

Published: May 27, 2016