Attending Live Events: The Single Best Marketing Strategy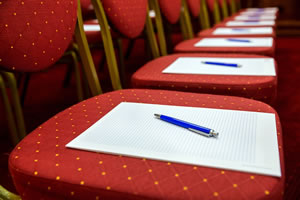 My first live event was AWAI's FastTrack to Copywriting Success Bootcamp and Job Fair in 2013.
As I sat in the plane on the tarmac, I was nervous and excited. But there was something else. I realized I had expectations for this event … and I was anxious they wouldn't be met.
I had things I wanted to accomplish, presentations I wanted to attend, and people I was hoping to meet. But, what it all boiled down to for me was that I wanted to see if this writer's life was "real." (Spoiler alert: it is!)
By the end of the event, I felt satisfied that my expectations had been fulfilled. But I also enjoyed a big benefit I hadn't even thought about as a first-time attendee. Attending AWAI's Bootcamp—and other live events since then—is one of the best ways I've found to market yourself as a writer.
The personal interaction you get at a live event increases your "know, like, and trust" factor with your potential clients. And, it's not a small increase. It can put it into overdrive. When that happens, you'll turn prospects into clients much faster.
Here's how that happens …
You Make Stronger Connections
The point of marketing yourself is to make connections, and no single other form of interaction will ever top being face-to-face with potential prospects and clients.
Period.
Psychologists tell us there are many ingredients to successful communication: words, tone, body language … so, the ability to shake someone's hand, see their facial expressions, and hear their tone, gives you all of the ingredients necessary for effective communication. You'll make a better first impression and form a stronger connection faster.
Everything Is More "Real" When You're There in Person
Writing is often a solitary enterprise.
Sure you communicate with other people by email, fax, LinkedIn, and even Skype. But it's always great to remember our prospects aren't just a name in a database. They're actual living, breathing human beings.
When you meet your prospects in person, they also get to see your enthusiasm, intelligence, and curiosity … so you become more three-dimensional, too.
You Build Trust … Faster
Another great benefit of In-Real-Life (IRL) communication is that it builds trust faster.
In every case where I've been able to connect in person with a colleague or prospect, I've found the relationship almost instantly moves up a level of trust.
And, the benefit of that is it often results in more work and more responsibility, as well. Bigger value means bigger paychecks.
You Build Your Network
When attending live events, there will, of course, be potential prospects and clients there. But there will also be many other freelancers: writers, designers, developers, editors, and other people whose services may be complementary to your own.
By forming alliances, you can be the writer a designer refers to his or her client, while you return the favor by referring clients looking for designers. As a writer, you may even be able to team up with a designer to form a mini agency.
You Accelerate Your Marketing Process
Even the shortest of in-person conversations with a prospect can efficiently replace what could take days or weeks to communicate by email.
In some cases, attending a live event may be your only chance to connect with potential clients.
For example, at events like AWAI's Bootcamp and Job Fair, you have unprecedented access to prospects you might not meet by other means.
According to master copywriter Nick Usborne, having a roomful of marketing managers under one roof is a tremendous advantage for you. Says Usborne, "These are top-notch, high-paying companies that like to work with freelancers. They would all be tough nuts to crack if you tried cold-calling them at any other time of the year."
Another advantage is the chance for you to not only meet various experts, but maybe put yourself on their radar.
Live Event Survival Guide
Now that you see the benefits of using live events in your marketing strategy, here are a few tips for getting the most from your live-event marketing efforts …
Prepare
Before I attended my first live event, AWAI's Bootcamp and Job Fair, I reached out to a few Bootcamp veterans for advice, and I recommend you do the same. If you know people that have attended the event you're planning to attend, you'll get lots of great first-hand advice — and one piece of advice was unanimous: arrive well-rested!
This is great advice.
One thing I've always found, regardless of the event I attended, is that they're usually pretty intense — long days made up of long hours!
While it's educational, eye-opening, inspiring, and yes, fun, it can also be tiring if you're not ready, or rested.
If you can, plan to arrive the day before the event starts, to get settled and recover a little from the effects of travel.
The next thing I did was to adopt the proper mindset.
Treat the live event not as an expense, but as an investment — an investment in your future, and in your marketing.
Finally, do your homework.
If you can, research and target one or two ideal clients you think might be a good fit for you and learn as much as you can about their businesses.
Visit their websites, check them out on social media, look them up on LinkedIn, and of course, search them out using Google. There's never been an easier time to gather this type of information, so take advantage of it.
Having your homework done will get you noticed.
Immerse
Once the event starts, it's time to get to work!
Live events are full of marketing gold …
Copywriter and marketer Michele Peterson understands the value of attending live events. Says Peterson, "It's a perfect place to connect with your audience — you're rubbing elbows with them during the sessions, but you might also be sharing an elevator with them, or sharing drinks at the bar … you're getting into the mindset of your ideal clients."
And if you're at a trade show, you'll also have access to marketing pieces exhibitors are currently using … more great information to have. You can use that information to see what type of services you could offer your clients.
So, take it all in … and I don't just mean the sessions. If you talk to people who attend a lot of events, you'll find out that much of the real networking happens outside of the day's planned sessions.
Take advantage of the many opportunities to network: breaks, meals, and last but not least, hanging out at the bar following the day's activities.
Follow Up
This is both one of the most important steps, but sadly, also one of the most neglected. Live events often stir up energy, inspiration, motivation, and momentum, but it's critical to keep that momentum going once the event is over. There can be a huge decompression when you get back to your spouse, kids, laundry, and whatever else, so try to have a follow-up plan in place to put all that hard work into practice. The good news is that since a lot of people neglect this important step, you'll be one of the few stand-outs when you do follow up.
You Know What They Say …
To be successful, you need to be in the right place at the right time. And, when it comes to marketing yourself, live events are the right place at the right time.
Mix in the right people, and you've got yourself a marketing gold mine.
Do you have any thoughts to add?
Please share them in the comments below.
This article, Attending Live Events: The Single Best Marketing Strategy, was originally published by Wealthy Web Writer.

The Professional Writers' Alliance
At last, a professional organization that caters to the needs of direct-response industry writers. Find out how membership can change the course of your career. Learn More »

Published: May 26, 2016