The Invisible Ingredient of Success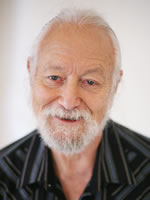 Will Newman
I'll be honest with you. I didn't want to go to the Rotary training this past Saturday.
You probably know by now that I don't like traveling far from my home, and the training was an hour and a half away. I'd be giving up a Saturday I'd rather spend with Linda. I'd be hanging out with a lot of people I didn't know, something that makes me uncomfortable. (Something you probably don't know: I'm a bit introverted.)
But as my club's secretary, I felt I had to go, even though I go to these trainings almost every year. I also wanted to show support for our president-elect, the woman whose class I volunteer in.
I returned from the training re-energized, brimming with new ideas. And with an idea for this article!
In spite of my reluctance to go, I learned. I made new Rotary friends. And I was reminded of the power of being with other people who share interests and goals.
I've always been something of a solitary person. That's why I don't like leaving my community. That's why I call myself an introvert. And that's why I love copywriting. Usually I don't have to leave my comfort zone.
However … and I continually remind myself of this lesson … I know I stagnate in the absence of others. That's why Rotary holds an honored place in my life. Every week, I meet with acquaintances who've become friends, friends who've become extended family.
The power to spur growth
And that's also why AWAI has become such an essential part of my professional life … particularly two things AWAI offers.
Certainly, I write a great deal for AWAI. That's my hide-in-my cave, introverted side. But the AWAI features that broaden my knowledge, that get me working with other copywriters, that get me out of my cave are Circle of Success and Bootcamp.
Of course, I might be looking at COS and Bootcamp "from the other side" than you. After all, I'm an instructor for COS and a presenter for Bootcamp. But I'm convinced COS and Bootcamp hold the same power for both of us.
At my Rotary training, I learned new strategies for being a better secretary. I learned how to use my passion for mentoring for getting new members.
Teaching the COS Targeted Learning Programs made me more skilled at writing headlines, leads, and other parts of a promotion … because I needed to study those parts of a sales letter in greater depth to teach them in our weekly online sessions.
I could've learned these strategies in isolation just by researching. However, being in contact with Denise Ford (AWAI's Conference & Events Director) and other copywriters and marketers made my efforts much more effective and efficient.
Those efforts reaped huge benefits once I started teaching the actual Targeted Learning Programs. That personal, one-to-one connection with COS members challenged me. It improved my personal understanding of copywriting by forcing me to explain key strategies and secrets clearly and succinctly.
Getting out of my comfort zone. Interacting with others. Learning and sharing. But this connection still took place behind a computer screen … in the safety of my cave.
Getting out of my cave, out of my comfort zone
That changed the first time I attended Bootcamp … those 10-plus years ago. If you think traveling an hour and a half challenges me, imagine me traveling by myself across the country!
But my first visit — and every visit to Bootcamp after — brought me benefits far beyond the strain and discomfort travel imposed. As difficult as coming out of my introverted shell was, I found like-minded people with a passion for copywriting. And a passion for succeeding.
At every Bootcamp, I've learned huge amounts of new ideas. I've connected with others. And I could teach and mentor … my twin passions.
You can see why the Rotary training this past Saturday spurred this article. I'm a better Rotarian — and a better copywriter — because of the inherent power of interacting with other people who share my interests. The power of association, as I've written about before.
I firmly believe that this power of connection and association is the invisible ingredient of success in any endeavor. And certainly in copywriting.
Because I believe this power is so essential, I'm going to let four AWAI members tell their stories for the rest of this week. I hope to see you tomorrow when we visit with Circle of Success member Steve Agin.
Before then, though, I'd love to hear how you've experienced the power of connection. Comment below to share with us.

The Professional Writers' Alliance
At last, a professional organization that caters to the needs of direct-response industry writers. Find out how membership can change the course of your career. Learn More »

Published: May 9, 2016