Use These Proven Copywriting Formats to Get Your Copy Noticed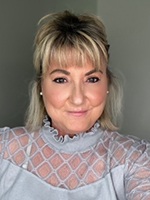 Sandy Franks
Your prospects are naturally skeptical
Too many ads and too little time
Pick one of these formats to get your copy noticed
Decision time: Clock is ticking on Bootcamp
Just because you absolutely love your product or service and are excited about it, doesn't mean other people will feel the same way, especially your prospects.
Let's face it …
Your prospects are naturally skeptical and jaded; they're fighting to hold onto their money.
They're inundated with ads every day. A new study by Media Dynamics, Inc. shows that on any given day, people see about 362 ads. Some experts say it's much higher than this, coming in at around 5,000 per day.
I'm skeptical that we actually see 5,000 ads in one day. At that rate, even if you spent all day searching the Internet, you'd see 208 ads every hour.
But there's no arguing 362 is still a lot of ads. This means you've got a tiny window of opportunity to grab your prospect's attention and get your message in there before they close the door on you.
To do this, you've got to write in a way they can understand … a way that captures their attention and holds it long enough for them to get to your call-to-action.
This can be a little intimidating for new writers. Wouldn't it be nice if there were a proven format you could use that would make your copy stand out from all those ads?
Good thing there is one … well, actually, there are four formats you can pick from to help you write a killer sales message.
Let me walk you through each one …
Proven Format #1: Challenge your prospect's point of view.
Everyone has a pre-established point of view on subjects as controversial as politics and money to the more mundane such as celebrity breakups and hot new romances.
We also have pre-existing points of view about ourselves. Sometimes we think we are better than others … sometimes we think less of ourselves.
The thing is, you can use these already-established viewpoints to capture your prospect's attention. The best way to make this copy format work is to discredit your prospect's current mindset about a particular problem so you can open their minds to the product or service you offer.
Check out how Dan Kennedy does it in this classic sales letter he wrote for his Coaching and Consulting Bootcamp info-product. In the headline, he challenges the reader's already-established opinion that they aren't qualified or have enough experience:
"But I'm Not Qualified"
WARNING: The single biggest obstacle to you making big money in consulting and coaching is the wholly erroneous idea that you have no expertise to offer worth big money, that you are not qualified to do this.
Proven Format #2: Expose a dirty secret.
In 1984, George Orwell said, "If you want to keep a secret, you must also hide it from yourself." Secrets abound, and have since the beginning of time. Most of us have kept secrets of one kind or another sometime in our life.
Just as much as we like to keep a secret, we can't resist when secrets are exposed, especially if we think the information being withheld is damaging in one way or another. Julian Assange, founder of WikiLeaks, made a career out of uncovering the skeletons people and institutions hide. He went from sheer obscurity to international notoriety in less than five years.
In copy, here's an ad that exposes the oil industry's secret: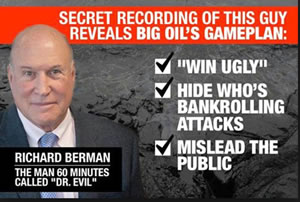 Proven Format #3: Question authority.
If you're like most people, you grew up with the understanding that you aren't supposed to question authority … ever. You are supposed to do what you are told and all will be well.
When you see someone questioning authority, you pay close attention. Here's an unforgettable magalog written by Gary Bencivenga for Forecasts and Strategies that not only questions authority but calls people out as liars: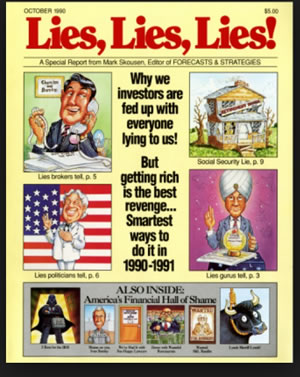 Proven Format #4: Create a common enemy.
Your prospect shares a common enemy they believe is the reason why they are not getting the results they want. Sociologist Georg Simmel says we create common enemies because it unites us with groups.
Since humans are meaning-seeking creatures, we create enemies to ensure that the world makes sense. Otherwise, why would bad things happen to good people?
Sharing a common enemy may be the most powerful copy strategy for bonding with your prospect. By highlighting a common enemy, you're dramatizing the problems your audience faces in a way that aligns the product or service you're selling with them.
The enemy doesn't have to be a person; it can be an institution such as Google, evil corporations, Wall Street, or the IRS. Or it can be a thing … trans fats, cellulite, or celebrity culture.
In this popular book from Kevin Trudeau, he positions "they" as the common enemy, which could be the medical establishment or any group the prospect thinks is withholding important information.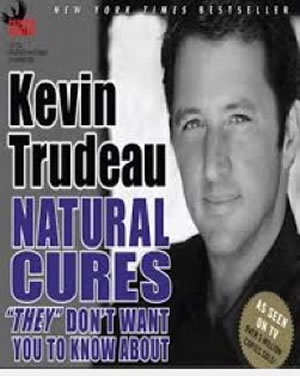 Your takeaway for today:
Use one of these proven copy formats in your current or upcoming writing project. Pick the one that most closely aligns to the product you are selling. You'll break through the daily ad clutter and get noticed by your prospects.

The Professional Writers' Alliance
At last, a professional organization that caters to the needs of direct-response industry writers. Find out how membership can change the course of your career. Learn More »

Published: May 16, 2016