Beat Writer's Block … for Good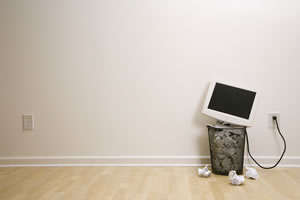 Words have amazing power.
Put words in the right order and you can conjure up joy, excitement, laughter, and fear.
For writers, few words convey fear like these two: writer's block.
But imagine if there were no such thing as writer's block.
Now, I know saying that is a pretty bold concept, but hear me out …
What if writer's block weren't a problem, but a symptom of something more fundamental?
When you're sick, it works best to treat the cause rather than the symptoms. The same is true when it comes to getting and staying in the flow of your writing.
But if writer's block is just a symptom, then just what is it that's causing wordus interruptus?
The Real Problems
When you're suffering from writer's block … it's almost always because of one (or more) of four common contributing factors.
Fix these real problems and the symptom of writer's block will disappear and get you on your way back to productivity:
Lack of Preparation
The greatest writers also tend to be the most tireless researchers. And no, that's not a coincidence.
When legendary copywriter Gene Schwartz worked on a sales letter for a book, his goal was to get to know the book's content better than the author did. He read the book a minimum of three times, taking binders full of notes.
Mystery novel writers interview cops and coroners to get characters and their language just right.
For any type of writing to ring true, it needs to draw from a depth of knowledge — and depth comes from research.
Lots of it.
An oft-touted maxim is, "Write what you know." It's hard to do that if you don't know anything!
Schwartz claimed he never had writer's block; he couldn't — his head was too full of information, facts, and ideas.
So, put in the time, do your research, and be prepared. Your writing — and readers — will thank you for it.
Lack of Reading
Another trait the greatest writers share is a love of reading.
Most prolific writers are also voracious readers. And that, also, is no coincidence.
But don't just take my word for it …
In an essay on advice he gives to aspiring writers, author Stephen Coonts relates the following story:
"Whenever someone tells me they would like to write, my first question is always, 'What do you read?' Writing is not for you unless you have spent a lifetime reading, a lifetime savoring stories. All too often, the answer I receive to my question is, 'Oh, I don't have time to read. I watch TV and movies, but I would like to be a writer.' The conversation usually ends there."
Adds Stephen King in On Writing:
"If you don't have time to read, you don't have the time (or the tools) to write. Simple as that."
Reading stirs the muse.
Reading is one of the best lubricants for the writing process.
So, read, read early, and read often.
Read books in your niche, read books out of your niche … fiction, nonfiction, it's all good.
And accept this as truth: better readers make better writers.
Lack of Discipline
Do you wait for inspiration to write?
Bad idea. Here's why: Inspiration is much like my 8-year-old son … give inspiration an inch and it'll take a mile.
And then some.
One of my favorite quotes on inspiration is by Somerset Maugham:
"I write only when inspiration strikes. Fortunately, it strikes every morning at nine o'clock sharp."
It's been said that "80% of success is just showing up."
For writers, I'd amend that to say "80% of success is showing up … at your desk."
Routine is key.
James Patterson is also a big believer in routine …
"Get into a writing routine. The trick is making writing into a daily habit. Same time. Same place. Same hot beverage of choice. Every. Single. Day. Again. And. Again."
One of my goals is to instill the same routine for my writing that I have in other areas of my life.
For example, in addition to writing, I teach part-time at a community college.
And one thing I never get is teacher's block.
Why?
I have a timetable — a schedule — that tells me when I'm working.
I don't (and can't) wait until I'm "inspired" to teach.
My timetable says I'll be in room T-208 at noon on Tuesdays, and there I am, in T-208 on Tuesdays. Whether I feel like it or not, whether I'm "inspired" or not, I'm in the room and teaching. For four hours.
So strive to make up your own "timetable," show up, and do the work.
I don't know about you, but I can't afford to wander around the house with my pipe and smoking jacket waiting for "inspiration" to hit me.
The only way to get things done is to show up and do the work.
Lack of Understanding That Writing is Hard Work
Writing is easy.
Writing well … that's another story.
The kind of writing that gives your readers an experience where their eyeballs just glide over the text leaving them feeling like they haven't even read anything at all? Now that's hard work.
As in … H-A-R-D … W-O-R-K.
Sometimes you get lucky and the words come fast and furious, pour out all in the right order, and you can't write them down fast enough.
Then, there are other times where you have to dig, pull, sweat, bleed … and still have very little to show for it.
And worse, sometimes that "little to show for it" is weak, pathetic, and makes you wonder if they're still accepting applications at barber college.
But, like it or not, that's writing.
Writing isn't an assembly line where you sit down and out pop 72.3 words every minute you're working.
Writing well is hard work.
Okay, it's not digging ditches, but it's hard work.
Yes, there are times when I'll sit and stare at a blank page and wonder what the heck I'm doing, but to me, that's not writer's block … that's just writing.
It's not supposed to be easy.
And, if I'm being honest, more often than not it's a result of laziness and tells me I haven't prepared enough, haven't read enough, or haven't spent enough time at my desk.
Beat Writer's Block … for Good
So, what's the secret to banishing writer's block for good?
Simple.
Outwork it!
Writer's block has no defense against being outworked.
Embrace It
Go forth and conquer the terrible, wonderful work that is writing.
And like any other form of work, you need to bring the right tools: prepare, read, show up, do the work, and embrace the challenge.
Do that and I promise you writer's block will soon become history.
Now, get to work!
I'd love to hear your comments on this article …
This article, Beat Writer's Block … for Good, was originally published by Wealthy Web Writer.

The Professional Writers' Alliance
At last, a professional organization that caters to the needs of direct-response industry writers. Find out how membership can change the course of your career. Learn More »

Published: June 22, 2016