Jen Stevens Returns to Bootcamp to Share Her Top Tips on How to Become a Copywriter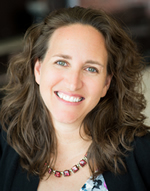 Jennifer Stevens
When Jennifer Stevens, Executive Editor and Chief Copywriter for International Living magazine (and sought-after financial copywriter), comes to AWAI's FastTrack to Copywriting Success Bootcamp and Job Fair … she takes on two roles — and both can help you become a working copywriter.
First, she speaks from the stage, sharing her knowledge based on her many years as a copywriter and author. The tips you pick up from Jennifer will be invaluable, not only on-stage but when you chat with her after the session — she's very approachable.
Second, Jennifer is also at Job Fair on Friday, where you can speak with her one-on-one about what opportunities there are for writing copy for International Living … and that gives you a "leg up" when you submit a spec assignment.
Year after year, she shares her real-world advice on how to become a copywriter.
If Jennifer's name sounds familiar, you might know her from past Bootcamps or as the author of AWAI's The Ultimate Travel Writer's Program (she's been to 27+ countries around the world). In short, she has a passion for helping others learn how to start writing for money.
"I enjoy coming back to Bootcamp each year not only because it's enjoyable to chat with some of the world's most successful and well-respected copywriters, but because I always learn something I can take back to my desk with me and apply immediately," says Jennifer.

"This is a program that works for writers at all levels I think, delivering equal parts inspiration, philosophy, and practical advice. It's like taking a little dose of copywriting juju — I always leave excited to sit down to my next project because I know it'll be charmed."
To find out more about Jennifer Steven, all the other speakers, and everything you'll learn that will show you how to become a copywriter at AWAI's FastTrack to Copywriting Success Bootcamp and Job Fair, go here

The Professional Writers' Alliance
At last, a professional organization that caters to the needs of direct-response industry writers. Find out how membership can change the course of your career. Learn More »

Published: June 10, 2016