How a Legendary Copywriter Dead for 88 Years Will Help You Achieve The Writer's Life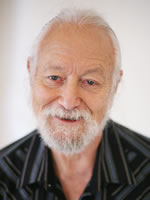 Will Newman
Features tell … But benefits sell
In other words, your prospect wants to know what the product will do for him, how it will make him stronger, healthier, richer, happier.
But it wasn't always this way. Most ads of 100 years ago did little more than describe product features. Take a look at this ad for the "1900" Ball-Bearing Family Washer.

The words on the upper right state: "Whether a housekeeper does her own washing or not, the worry and work connected with 'Blue Monday' literally chain her to the Wash-Tub."
The bottom copy gives a little information about how the washer works and describes a free trial offer. But absolutely nothing was said about the benefits of the washing machine.
This approach assumed that giving the features of a product was enough to convince prospects to buy.
This "features" approach changed around the turn of the 20th century, thanks in large part to legendary copywriter John E. Kennedy.
Kennedy started his advertising career as an ad manager at Hudson's Bay Department Store in 1890. After that, he became the business manager for a Montreal newspaper. After that, he wrote ads for The Regal Shoe Co., Postum Cereal Company, and Dr. Shoop's Family Medicine Co.
Kennedy changed advertising history one evening in May 1904, when he sent the following note to Ambrose Thomas, senior partner of Lord & Thomas advertising agency:
You do not know what advertising is. No one in the advertising business knows what advertising is. No advertiser knows for certain what advertising is. If you want to know, tell this messenger that I should come up. I'm waiting in the lobby downstairs.
Thomas read the note and thought it smacked of arrogance. But he handed it to Albert D. Lasker, junior partner in the firm, and told him, "You've been asking this question for years and nobody has yet satisfied you. Maybe here is the answer … You see the man."
Lasker and Kennedy met that night and talked until 3 in the morning. When they parted, Lasker felt he finally had the answer to what advertising was. Kennedy's answer: "Advertising is Salesmanship-in-Print."
Salesmanship-in-print boils down to two essential aspects of successful advertising. First, know the person you're selling to … your prospect.
The second, you must tell your prospect the benefits he or she will receive.
Kennedy critiqued the ad for the washer saying …
"First 'Don't be chained to the wash tub.' You are speaking negatively. Every woman doesn't feel chained to the wash tub. Lots of women might enjoy it. You miss her entirely." [Know your prospect.]

"Second, the average woman is put in the position of a drudge. She won't know it consciously, but subconsciously she won't want to … admit she has been reduced to such bestial servility.

"Again, it doesn't say a thing of what the article you want to sell will do." [Sell benefits.]
Kennedy's "reason why" advertising showed its effectiveness in a new ad for the same washer.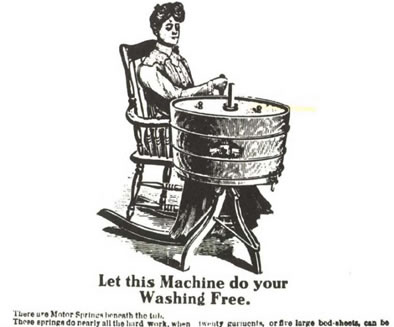 The copy immediately below says: "There are motor springs beneath the tub. These springs do nearly all the hard work when 20 garments, or five large sheets, can be washed."
The ad was so successful, the company increased its budget with Lord & Thomas from $15,000 per year to $30,000 — per month.
So, you have John E. Kennedy to thank for the twin doctrines of Know Your Prospect and Features Tell … Benefits Sell.
When you understand the history behind these "rules" for successful copywriting — that they're based on evolution and testing of ideas — you're much better prepared to apply them effectively.
I based the information on Kennedy from a number of sources, including AWAI's The Masters Program, which I'm pleased to say I helped compile.
Over the next few months, I'm going to spotlight legendary copywriters periodically in The Writer's Life. Are there any you'd like to hear about? Let us know by commenting below.
I hope to see you back tomorrow when I'll tell you about a personal commitment that may have saved my life … or at least made me easier to live with.

The Professional Writers' Alliance
At last, a professional organization that caters to the needs of direct-response industry writers. Find out how membership can change the course of your career. Learn More »

Published: June 27, 2016