Client-Getting and Pricing Expert Ilise Benun Will Show You How to Land Top Clients and Get Paid What You Deserve at AWAI's 2016 Bootcamp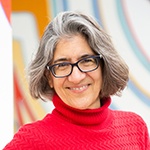 Ilise Benun
When it comes to building a copywriting business, your copywriting skills are just part of the equation. To become a freelance writer, you also must have a system in place for finding clients and landing them. And to ensure your business thrives, you must know how to price with confidence so that you get paid what you deserve.
With 25 years of experience in this field, you couldn't ask for a better mentor in perfecting the business side of your freelance career than Ilise Benun, a featured speaker at AWAI's FastTrack to Copywriting Success Bootcamp and Job Fair this October.
An author, consultant, national speaker, and Marketing-Mentor.com co-founder, Ilise has a passion for helping newcomers like you to become a freelance writer.
She's given presentations on freelancing, marketing, and pricing groups such as the American Marketing Association, International Association of Business Leaders, American Consultants League, and the Business Marketing Association.
She's developed and taught courses for groups such as The Freelancers Union, CreativeLive, HOW Design University, and AWAI (through the Simplest Guide to Pricing Copy Projects program). Elise is also a prolific author of books and marketing tools, including The Pick a Niche Kit, The 30-Minutes a Day Marketing Plan for Creative Professionals, The Creative Professional's Guide to Money, The Designer's Guide to Marketing and Pricing, Stop Pushing Me Around: A Workplace Guide for the Timid, Shy and Less Assertive, The Art of Self Promotion, and Public Relations for Dummies, 2nd Edition, co-authored with Eric Yaverbaum and Bob Bly. And she's also been featured in The New York Times, Washington Post, and Inc. Magazine, among other publications.
Now she'll be passing on her proven client-getting and project-pricing strategies at FastTrack to Copywriting Success Bootcamp and Job Fair.
"I can't wait to be back at Bootcamp this year! It's always such an inspiring event with the feel of a homecoming!" says Ilise.
The FastTrack to Copywriting Success Bootcamp and Job Fair is the place for copywriters serious about learning how to become a freelance writer to master the latest copywriting techniques, as well business-building strategies, from the best in the business. Hundreds of Bootcamp attendees have left the event with the know-now to create thriving freelance businesses.
To take your career to the next level and become a freelance writer sooner than you thought possible, you should be at the FastTrack to Copywriting Success Bootcamp and Job Fair. If you register before July 31st you'll get a $500 discount.
This event does sell out. So don't delay — sign up now.

The Professional Writers' Alliance
At last, a professional organization that caters to the needs of direct-response industry writers. Find out how membership can change the course of your career. Learn More »

Published: June 17, 2016