How Will You Jump the Curb as a Standout Copywriter?
AWAI
Take a close look at this photo. As you can see, a single, proud, "Hey look at me!" flower has jumped the curb and is standing apart from all the similar flowers clumped together in the background.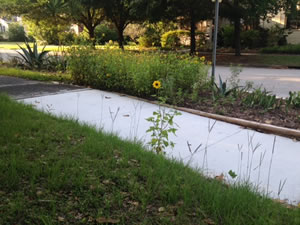 I took the photo during an early-morning dog walk the other day, because this single flower stopped me in my tracks. I couldn't help but notice it … and before I could walk on, I started to smile. I thought, "Here's a great metaphor for making a bold leap as a copywriter."
This image serves as a beautiful analogy for how you can stand apart from all the other copywriters out there and get noticed by clients. So let's dig deep into this analogy.
What exactly can you do "jump the curb" and become a standout, in-demand copywriter?
Continue to learn every day, advancing your skills and knowledge

Whether you've completed AWAI's Accelerated Program for Six-Figure Copywriting or you've just read the Table of Contents, you'll want to keep learning to stand out as a highly skilled copywriter who can bring your clients big results.

You see, learning the foundation of good direct-response copywriting is fundamental to success. But to take yourself even further, you have several options. You can master advanced copywriting secrets, explore various specialties includes web copywriting, B2B copywriting, email writing, etc. (all high-demand specialties today), learn how to present yourself to clients in the best way, and so forth.

I've been a copywriter for more years than I care to mention … but I never stop learning! That's why I'm now a specialist in writing Web/SEO content. This has helped me jump the curb and stand out when clients need someone who understands how to write web content.

Make meaningful connections

An old adage in life is, "It's not what you know, it's WHO you know." Well, when it comes to copywriting, it's both. You need to know what you're doing, of course. But success will come much more quickly if you make connections that matter.

What do I mean by this? There are different people in your world who can and will support you, help you become more knowledgeable, refer you to potential clients, or even become clients. For instance, think about these types of connections that can be critical to your career:

Colleagues from your previous business life: they may know someone who needs your services, or they may become a client
Copywriting masters who are happy to share their expertise: It definitely pays to network with our program authors, event speakers, other copywriters, social media representatives, etc. Why? Because not only will you learn from them, you may be hired to work with them!
Fellow copywriters: Most copywriters are working from home or they may work for a company where they're the only copywriter on staff. It can be an isolated line of work. That's why it's important to find "copy buddies" who are going through the same journey as you: learning the craft, working to get clients, etc. We have oodles of proof that members of copywriting peer groups thrive from the support and camaraderie.

Social media and email are certainly powerful ways to connect with all these people … but one of the strongest ways is face-to-face, whenever possible.

No matter how you do it, try to connect with as many people as possible. You never know who could help you jump the curb past all those other copywriters!

Focus on a niche market or industry

Today, there are so many copywriters out there, all trying to get noticed, that it pays to specialize in a specific market or industry, such as the health/medical industry; food and wine; colleges and universities; baby products and services; sports and fitness, etc.

When I decided to focus on the pet-veterinary industry a few years ago, everything changed for me. This helped me jump the curb and be THE BEST CHOICE for clients looking for a writer who understands their audience (pet owners, pet businesses and veterinary practices).

Which field do you have a background in? What industry do you know about? AWAI has a ton of resources to help you identify a great niche for your copywriting life. Start with our free articles (go to www.awai.com/content/ and search for NICHE articles).

Adapt a sunny attitude toward making progress as a copywriter and in your business

One of my favorite quotes is this one from Winston Churchill: "Never, never, never give up." This is a great mantra if you're working hard to become a professional copywriter and find high-paying clients.

Sadly, a lot of aspiring copywriters do give up after taking one training course and putting up a website. They get discouraged and think, "This isn't for me after all."

I'm here to say you CAN make it if you can stay positive and do one thing every day to keep moving forward. Action leads to momentum, progress and success.

I didn't become a well-paid copywriter in one day. Nobody did. Those of us with steady work and wonderful clients have kept at it, written every day, learned and learned some more, connected with people in LinkedIn (building a huge network over time), read articles, watched helpful webinars, and just kept believing in the dream.

If you can do this, if you can keep your eye on the prize and take small actions that lead to progress … you'll definitely jump the curb and stand out from the crowd.

Do whatever it takes to get ahead

It's fun to get creative and seize any opportunities you can find to advance your writing life. For instance, when I started immersing myself in the pet-industry niche, I tried several different things to get my name out there in front of clients … including:

Offering to write a column in a veterinary trade journal for free (to get exposure with my byline)
Hopping in the car and driving 3 hours to attend a veterinary industry trade show
Offering to do my local vet's marketing in trade for him taking care of my dog's medical and prescription food needs.

Did these efforts help me jump the curb and stand out in the industry? You bet!

So what can you do for yourself now? Perhaps enter a writing contest in your industry, start blogging about industry trends, approach a company to interview them for an article or podcast. Do whatever it takes to be in front of potential clients.
Now that I've given you five tips on how to jump the curb, stand out and gain significant momentum for yourself … I have one more idea for you.
This October, you'll be able to do all the things I mentioned above and put them on steroids over three days, all in one event. At this event, you will:
Continue to master your skills
Make meaningful connections
Identify a great niche for yourself
Get inspired and boost your outlook/attitude
Seize the opportunity to meet dozens of clients who need you now
Imagine that! Over just three days, you could become that "Hey , look at me!" flower, standing out from the clump in the background.
I'm talking about AWAI's FastTrack to Copywriting Success Bootcamp and Job Fair, October 19-22, 2016 in Delray Beach. Florida.
This is where you'll learn firsthand from legendary copywriters and marketers like Clayton Makepeace, Dan Kennedy, Alexander Green, Brian Kurtz, Carline Anglade-Cole and many more … master crucial copywriting skills to produce control-winning copy every time … meet with marketers from companies like Stansberry Research Inc., Newsmax Media, Glazer Kennedy, Agora Publishing and more … all coming to find their newest copywriters … walk away with proven business-building strategies that will take your copywriting business to the next level … beginning the day you get home. All this and MUCH MORE.

The Professional Writers' Alliance
At last, a professional organization that caters to the needs of direct-response industry writers. Find out how membership can change the course of your career. Learn More »

Published: June 23, 2016