Setting Fees for Web-Writing Services: How to Overcome Your Own Sticker Shock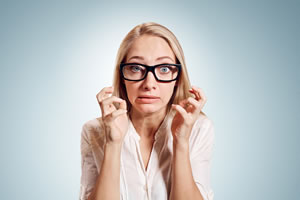 You've done your research. You know what your client needs. Now it's time to submit your pricing proposal. But the end result is still higher than you can imagine charging. You can't see yourself paying that amount, so why would your client?
Now what?
It's easy to be afraid of that big number at the end of your quote sheet, especially when you're just starting out. For my first one, I was terrified.
What if the client freaks out the same way I would?
What if they say no?
The "what ifs" can carry on forever, and each one introduces a new reason not to actually submit your proposal. But, if you don't send it, you're out of the running for the project.
You need to set fees for your web-writing services that are fair, but at the same time help you get past your own sticker shock in the process. Try this strategy to overcome those fears quickly while putting a fair value on your services. Then you'll be able to submit your bids with confidence.
Pricing double check
Figuring out your rates before you're actually called on to provide a project bid is the first step to building your confidence. In reality, there's no such thing as standard rates for web-writing services, but you can find some excellent guidance through Wealthy Web Writer regarding what to charge for various types of projects.
Determine what you need to earn per hour or per project to meet your income goals. (It's not ideal to quote your clients an hourly rate, but you should have a clear idea of what your desired hourly rate works out to be.) Once you know what you need to earn and how that fits with the average rates for different projects, it becomes much easier to set your fees and stick to those rates.
What's the investment?
Another way to boost your confidence is to look at what you've invested to get where you are.
Think about the time you've spent learning your skills and the money you've invested in your training. In terms of investment, what have your costs been?
Beyond that, consider the time you invest up front, researching each client, their product, their audience, and their competitors even before you submit your bid.
Add up the hours of training and research time you've done to prepare for the project you're planning to bid on. Multiply that by your desired hourly rate based on what you need to keep the lights on. Now it's time for the next steps.
Compare prices
Look at monetary value of what you've already invested and compare it to the price you're quoting to your client. Your investment is probably much higher than — or at least in the neighborhood of — the price you're quoting your client.
You were willing to invest that kind of money and time into your business. Keep in mind your client is probably willing to make a similar investment. Your client has an advantage, though. They have you to help ensure a positive return on their investment. What's the cost to them if they don't hire someone? Next step.
What's the real value?
Not only are you providing your client with a service they cannot do on their own, you're also saving them the time and monetary expense you've invested in learning your skills. And, the service you provide them is going to deliver more value than what you charge. (Here's more help on how to focus on value).
What do you know that could help your client grow even more or gain a greater reach? You bring expertise your client knows they need both for the project you've been hired to do and to help them identify needs they may not have even recognized yet. They're hiring you because they know they need that knowledge.
Rejection (and what it really means)
You've thought through everything, created your quote, gathered your courage and sent in your proposal. Anything other than a definite no in response leaves room for negotiation, which doesn't necessarily mean cutting your rates. Drill down to discover the real problem. Focus on the value you're giving them, and then scale back the campaign to meet their budget. Or spread out the work over a greater period of time, giving the client time to raise funds. Or break the work into phases, so the client can see the tangible benefits of phase one before committing to phase two.
If they still say no, it's possible this isn't the right client for you. Better to keep your time free for the client that does value your services appropriately.
Still concerned?
If you're still concerned your price is too high … the best confidence builder is to put your proposals out there to see if your clients accept them. When they do, you'll realize your rates aren't nearly as outlandish as you think.
This article, Setting Fees for Web-Writing Services: How to Overcome Your Own Sticker Shock, was originally published by Wealthy Web Writer.

The Professional Writers' Alliance
At last, a professional organization that caters to the needs of direct-response industry writers. Find out how membership can change the course of your career. Learn More »

Published: June 15, 2016