Build Your Skills and Self-Confidence as a Respected Writer and Publisher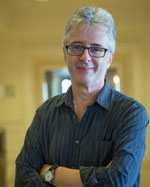 Nick Usborne
My last two articles — here and here — talk about the benefits of earning a passive income by writing your own website about a topic you love. (I love coffee!)
Creating a second, passive, revenue stream is reason enough to create your own website.
However, as they say in the infomercials — But wait, there's more!
A huge side benefit to writing my site about coffee is that I am practicing my craft as a content writer and copywriter every day.
In fact, I have learned more about online writing from my coffee website than I have from any book, webinar, or conference.
My website has become a professional sandbox. It's where I can experiment, and test things.
If I want to learn how to create content that is likely to be shared through social media, I can test various content approaches and headline styles.
If I want to test different copy approaches to sell my e-book, I am free to test as much as I like.
If I want to find the best way to optimize my pages for the search engines, I can experiment with different approaches across multiple pages.
If I want to test my pre-selling skills, I can do that when I write coffee maker reviews that have affiliate links.
Because I own the site and have total access to its analytics, figuring out what works and what doesn't is pretty easy.
So when a prospective client — yes, I still work with clients — asks me if I know anything about social media optimization, I can say yes, with absolute confidence.
The same is true if they ask me about my knowledge of Search Engine Optimization (SEO), online sales copy, and so on.
I'm learning by "doing" … every single day.
Yes, I'm having fun writing my Money-Making Website, and receiving passive income checks every month. But I'm also building my skills. Which makes me a better content writer and marketing expert. And I can sell those skills to my clients.
In addition, being in a continuous state of learning gives me tremendous self-confidence when talking with prospective clients.
When they ask me questions about online content, social media, SEO, or any other aspect of writing for the Web, I can answer with absolute authority.
I answer with confidence because I have learned by "doing it," not just by reading about it in a book.
Passive income, a boost in self-confidence … and more
I've touched on the high points and key benefits of writing your own authoritative, Money-Making Website. But there are lots of side benefits too.
For example, I haven't bought coffee for years — because roasters and growers keep sending me their coffees to review on my site!
In my basement, I have shelves filled with coffee makers, grinders, and espresso machines. I get those free too.
And in January, I'm off on my second trip to the Blue Mountains of Jamaica, where they grow some of the world's finest coffees. I'm being hosted and taken care of by people in the island's coffee industry.
I know dozens of other people — experienced content writers and beginners alike — who have created Money-Making Websites and are enjoying the same benefits I do.
So … What are you waiting for? Pick a topic you'd really enjoy writing about, and take the first step towards creating a Money-Making Website of your own.

How to Write Your Own Money-Making Websites
Learn how to write an information website in your spare time and earn $1000, $3000, even $5000 a month in passive income. Learn More »

Published: June 9, 2016