How My Third Grade Teacher Got Me Started on My B2B Career: A Conversation with Gordon Graham — Part 1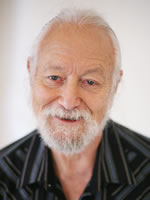 Will Newman
You're in for a real treat the next three days.
A couple of weeks ago, Katie asked me to interview Master B2B Copywriter Gordon Graham.
I'd never met Gordon, so I didn't know how engaging and interesting he is.
Normally, when I give you an interview with a master, I try to keep it to one article. But I had such a good time interviewing Gordon, I decided you deserve to hear as much of what he said as possible.
So today, we're going to learn a little about Gordon's background … and what brought him into his very successful B2B career. I know you'll enjoy hearing what he has to say.
WILL: Thank you for taking this time to talk to our readers, Gordon. I like to start by having you tell us a little bit about yourself so our readers can get to know you as more than just a "Master Copywriter."

GORDON: My wife, two children, and I live in a small town in rural Ontario, Canada. We're way too small for things like the Toastmasters. But what we have is water, and it's just fantastic. We live right on this little river and it's a kind of river that's perfect for boating, perfect for canoeing, kayaking. If you spill into the water, you feel like you can walk to the shore.

Oh, and I could talk forever about our two little daughters. They're just turning six and three.

I got to be in my 50's and never had any kids. And it was time with a wonderful woman who always wanted to have kids. We tried but didn't have any luck. We'd always liked the idea of adopting. So we adopted first one little girl and then another.

I want to say to anyone considering adopting, carry on and trust the process. And I hope it'll work out as well as it did for us.

When I was in my 40's, I learned I had Type 1 diabetes. That made me adopt an active life. I've run half-marathons. I paddle, skate, ski. Walk my 10,000 steps a day.

As writers, we sit a lot. So my message to other writers: Stay active.

WILL: Have you always been a professional copywriter?

GORDON: No. But I always wanted to make my living as a writer.

When I was in grade 3, I had this formative experience. I had teacher called Miss Rattle. What a name for a teacher, but she was so nice. She put up pictures of animals and places and buildings and interesting people all around the blackboard. She said, "So class, if you finish your work, find a picture that interests you and write a story about it."

Then she would read them to the whole class. I'd rush through my work so I could write a story. I distinctly remember one time where she read one of my little stories. It was probably three paragraphs long or something. But all the kids were sitting around oohing and ahhing and laughing.

I just thought, "This is so great! This is what I want to do for my whole life. I want to make my living as the story writer." So, you know at the ripe old age of 10 or 11, I determined I wanted to be a writer.

I tried all the different ways I could think of to do that. I wrote poetry. Stories for the student newspaper. I started a newspaper in Toronto. I worked in traditional magazine and book publishing. Then I discovered technical writing, which I did for many years.

When I grew tired of that, I transitioned into marketing writing. I noticed how companies that hire these writers treated them differently than I was treated. They looked at paying for copywriting as an investment.

So I tried all the different types of marketing writing. I was terrible at writing ads.

In journalism, it's really drummed into your head to be factual and to be accurate. To be precise. But to be flip over and start painting dreams for people — and to push emotional buttons like you're supposed to — I just couldn't do it.

I still can't do it to this day. I don't really want to.

So I've been really fortunate the wave of content marketing came along. I saw things like case studies and white papers and other things companies were doing. And I thought it really, really interesting.

So around 1997, one of my tech-writing clients hired me as VP of Marketing.

I didn't know very much in those days. But I knew enough to do what's now called "content marketing." We put out a slew of case studies and white papers and press releases. And we set up one of the first websites in our industry.

We partnered with companies like Oracle. It was a really neat experience because I got to see what worked and what didn't.

What worked was content!

Those case studies and those white papers. Those things really got people engaged. We could've spent a fortune on advertising or direct mail that just didn't grab people in that industry.

I also did newsletters for five different companies. Newsletters are fabulous. You get so much repeat business. Every month or every quarter, you've got another issue to put out. They're a great and profitable form of content writing.

The Professional Writers' Alliance
At last, a professional organization that caters to the needs of direct-response industry writers. Find out how membership can change the course of your career. Learn More »

Published: July 27, 2016