Ditch the 21-Day "Habit Myth" and Instead Build Profitable
Habits That Stick
By Mindy McHorse, Web Writer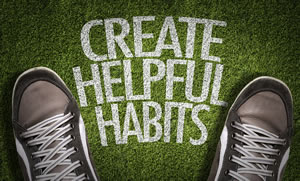 If you can learn a smart new habit and stick to it, you have a virtual superpower at your disposal. It gives you the ability to learn, achieve, and be just about anything you want — such as a profitable web writer.
And according to popular knowledge, all it takes to build a habit is just 21 days … right?
Wrong. Though the 21-day myth is thriving on the Internet, and it may be true for a tiny fraction of cases, a lot more than just 21 days goes into building a lasting habit.
So, if you want to turn your habits into life-changing stepping stones toward the future you dream of, here's what you really need to do to make those habits stick …
Step One: Target the Most Life-Changing Habits for Your Goals
First, know that the ability to form new habits isn't influenced solely by your own determination, persistence, and discipline (thank heavens).
Rather, the most important element of building sticky habits is to consider the cause and effect of your current situation. Much like doctors are more successful in healing a patient if they look at the cause of an illness instead of just treating the symptoms, you'll do better forming habits if you understand where you might be going wrong without the habit.
For example, let's say your writing business is going nowhere, and it's a major stress point for you. Drill down and look at the "why" behind your lack of progress. For example:
Why haven't you moved forward in your writing goals like you want?

Because you don't have enough time to write every day, contact prospective clients, and work on your website or self-marketing materials.

Why don't you have enough time to complete your writing tasks?

Because you have too many things to do—a full-time job, a family that needs you, a house begging to be cleaned.

Why do you have too many things to do?

Because you can't finish everything you've committed to.

Why can't you finish what you've committed to?

Because you schedule more tasks than you can accomplish in a single day.
Drilling down like this helps you uncover the root cause of what's going on. From there, you'd take it one step further to try and figure out why you're overscheduled. Is it because you don't have enough support? Could it be you're too tired to tackle projects efficiently? Or that your energy levels are low? Or perhaps that you have a hard time saying "No" to others?
Depending on your answers, you might realize you need to be more realistic in planning your daily goals. Or, that you need to sleep more at night, or eat better and exercise to bring up your energy levels. Or, that it's time to reach out to others for help, so you can focus on what's most important.
Remember, most habits are interlinked. So, if your chief goal is to build a lucrative writing business, figure out which habits most directly influence that goal. Carving out more time in your day, saying no to extra projects, and boosting your energy levels and healthfulness are all connected to what it takes to excel at getting paid to write.
That's why figuring out how your habits connect to one another is the first step in creating sticky habits.
The second step is to think about your intrinsic motivation …
Step Two: Remember Your "Reason Why"
Why do you want to be a web writer in the first place? Is it so you can have more money? More freedom and time in your day? So you can get away from a job that drains or constrains you?
Find a way to recreate the intrinsic motivators that prompted you to follow this career path in the first place. Research shows that's a much more powerful way to build strong habits than devising a reward vs. punishment system.
That means instead of rewarding yourself with your favorite food when you follow through on daily tasks, create a system that makes it easy to re-imagine your initial motivation. You can do this by making a vision board, writing out a mission statement you read daily, or coming up with a mantra. Whatever approach you take, let it serve as a daily reminder of why you're reaching for your particular goal. That way, when it comes time to connect that goal to a habit, you'll have deep intrinsic motivation to do so.
For example, say you want to make it a habit to write every day, because you know the constant practice will make you a better writer. Prior to the time you've allotted to do your writing, think about your deeper motivation. That'll be a much more powerful force than simply telling yourself to do the writing or trying to write every day for a certain number of days.
Step Three: Trigger Your Daily Willpower
Next comes the practice of building your willpower. Using the concept of "triggers," you can build habits without putting much effort (or angst) into it. I tried this when I first decided to write 1,000 words a day. I'd attempted it before, but I was fraught with rules – "must happen before 10 a.m., must be on this particular project, must take place before checking email." Having so many rules made it a hard habit to implement. I had too much mental clutter jamming up my willpower.
As a compromise, I decided every time I turn on my computer on weekdays, I have to start by writing 1,000 words. Doesn't matter if it's morning or evening. Doesn't matter which project I focus on. Doesn't even matter if I've seen my email already (though it would have to be from another computer or device, since the first action I had to do at my desk computer – which is where I'm most comfortable working and writing – was to write those 1,000 words).
It worked. Now, the "on" button to my main work computer triggers me to pump out my writing quota for the day.
Step Four: Use the "Costco Effect" to Your Advantage
The fourth step has to do with eliminating excessive thinking, so you can focus exclusively on whatever change you want to make.
Actress Julianne Moore once said in an interview that she ate a grilled cheese sandwich every day for lunch for two years. I was a lot younger when I first read this and thought it was the weirdest thing ever.
Then I got older and realized how exhausting it can be to tackle multiple decisions on a daily basis. (This goes back to the detrimental effect mental clutter has on your willpower.)
The solution is to curb any mundane decisions from your day, so you have the energy and mental resolve to focus on what matters. For example, instead of worrying about what to wear every day, pick out a handful of outfits at the beginning of the week and work your way through them. Instead of worrying about what to eat for lunch, choose a go-to meal or two and don't stress about other options.
Costco is a good business example for why this approach works. By limiting the selection options they have on most items, the store makes it easy for people to come in and make a purchase. Need a bag of oatmeal? There's one option. Grab it and go. Shopping for a new 50-inch TV? They'll point you to the few choices in stock (unlike shopping at Best Buy, where you can choose from upwards of 20 different models).
Costco maintains that selling fewer items increases sales volume and helps drive discounts. That could be why Costco consistently outperforms similar retailers like Target and Walmart. So, imagine increasing your writing volume and focus … what might be your long-term benefit?
Why These Four Steps Put Any Writing Achievement Within Reach
To recap, any time you want to build a habit, you should start by thinking about what really needs to change. Drill down to the root cause of your problems to choose your new habits. Then, recreate your intrinsic motivation and build your willpower to focus on that habit using simple triggers. Finally, cut out excessive thinking, so you can put your full mental effort into the habit you've chosen.
The end result could very well be a lifelong practice that changes your web-writing career — and your life — for the better.
This article, Ditch the 21-Day "Habit Myth" and Instead Build Profitable Habits That Stick, was originally published by Wealthy Web Writer.

The Professional Writers' Alliance
At last, a professional organization that caters to the needs of direct-response industry writers. Find out how membership can change the course of your career. Learn More »

Published: July 20, 2016