Choose the Online Copywriting Work You'll Enjoy the Most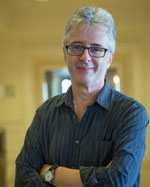 Nick Usborne
Doing work you love is a powerful thing.
You probably know a few people who truly love their work.
Maybe a teacher. A soccer coach. A local business owner. Or your favorite movie star.
When we do work we love, it doesn't feel like work at all.
It's a virtuous circle, too. Because the more we love our work, the better we get at it. And the better we perform, the more we enjoy ourselves.
Loving your work, and getting paid well for it, is a wonderful way to go through life.
The thing is, most of us feel that such a fairy tale career is out of our reach. It's just for the lucky few. The blessed.
I don't think that's true.
If you enjoy writing, I think you can create exactly that kind of life as a freelance online copywriter.
I say that not only because it's true of my own life, but because I know a lot of other copywriters who are similarly blessed.
It's possible to enter this virtuous circle through the abundance of writing opportunities available to online copywriters.
Here is the list of online copywriting opportunities I listed in my last article:
Online sales letters
Emails
E-newsletters
Social media updates
Blog posts
Articles
Video scripts
Case studies
Product reviews
Buyers' Guides
Entire websites
Landing pages
Squeeze pages
Popups
Interview scripts
That list doesn't just represent abundance. It also represents choice — the opportunity to choose the kind of writing you'll be best at, and will enjoy the most.
For example, some writers seem to be born to be long-form sales letter copywriters. That's their thing. That's where their true talent lies.
But it's not for everyone.
Other people shine at their brightest when writing blog posts or social media updates. Their style is more conversational. They write with enthusiasm, but without directly selling anything.
Others do their best work in more formal styles — writing case studies or buyers' guides.
My point is that the abundance of opportunities in online copywriting isn't just about the availability of work. It's also about being able to choose the kind of copywriting that best suits your own skills and temperament.
It's when you choose the kind of copywriting work you'll enjoy most that the magic will begin to happen.
I can't emphasize this enough.
During my one-on-one coaching days, I frequently heard from copywriters who had chosen their niche online for reasons I felt were just wrong.
People would go into sales letter copywriting because they had heard "that's where the money is."
Others opted for writing email because they had heard there was more demand for email copywriters.
These are external reasons, and often misguided.
The one piece of advice I gave to all my coaching clients was that they ignore what other people say. Even ignore what the market "says." Instead, I recommended they follow their own gut feelings. Their own hearts.
Bottom line — you'll never do your best work unless you opt for the kind of work you are going to enjoy the most.
Do you think the outstanding teacher I mentioned earlier got into teaching because she thought, "That's where the opportunity is at?" Of course not. She got into teaching and excelled at it because she was born for it. It's what she does best and enjoys the most.
The same is true for the soccer coach and the local business owner.
Success comes from passion and excellence. Not from following the market, or the latest hot opportunity.
And this is what I love about online copywriting and writing.
Compared to the old, offline world, there is an amazing abundance of different types of writing you can choose from.
With so many choices, it's possible for anyone to zero in on the kind of writing that best suits them.
When you do that — when you choose the kind of copywriting you'll be best at and enjoy the most — you'll be unleashing a powerful force.
That force will not only earn you a fat paycheck every month, but it will also draw you into that virtuous circle of ever-improving performance and a deepening satisfaction with the work you do.
Not such a bad life!

The Professional Writers' Alliance
At last, a professional organization that caters to the needs of direct-response industry writers. Find out how membership can change the course of your career. Learn More »

Published: July 13, 2016