Live: The Barefoot Writer July Issue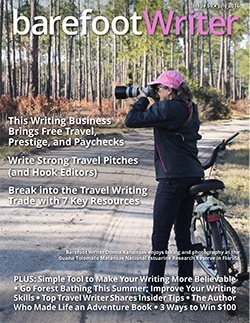 Which would you rather have: A free charter plane ride, a free penthouse suite at a resort, or a free, seven-day luxury cruise?
If even one of these things sounds appealing … you're in the right place. The truth is, it's possible to have all of these.
How? By writing for a niche that is often overlooked and ignored.
In this month's issue of Barefoot Writer Magazine, we share stories of multiple Barefoot Writers who enjoy these kinds of perks — and some are even making great incomes, too. But that's not all … . They're also seeing their bylines in reputable magazines.
Free travel and accommodations … and getting paid at the same time … If this sounds like something you're ready to do, turn to page 16 in your July issue of Barefoot Writer Magazine.
You'll also enjoy the proven writing tips and advice on:
How to write strong travel pitches that hook editors
Tips to turn a single trip into three published essays
Why "forest bathing" this summer might help spruce up your writing skills
7 overlooked resources to help you break into the travel writing trade
How one writer is eliminating nagging credit card debt while still traveling around the world
And — don't miss our exciting interview with globetrotting writer and multi-book author, Margot Bigg.
Click here now to read your July issue of Barefoot Writer.
Not a subscriber of Barefoot Writer? Click here.

The Professional Writers' Alliance
At last, a professional organization that caters to the needs of direct-response industry writers. Find out how membership can change the course of your career. Learn More »

Published: July 1, 2016