The True Secret to Attracting Great Clients as an Online Copywriter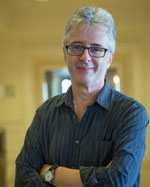 Nick Usborne
When people hang out their shiny new shingles as freelance online copywriters, they are faced with finding their first client. And then the second. And then the third.
I won't lie to you.
At first, it's scary. It's intimidating.
And it's the same for every single one of us. We all got started in the same way.
We all opened our doors for business without a single client.
Accept that. Accept that it's a bit scary at the beginning.
And know that you will get that first client, and a second.
How? Well, I'm going to break down this article into two parts. The first part will look at some of the practical steps you can take. The second explores what I consider to be the "true secret" of attracting great clients.
5 Ways to Get Your First Freelance Copywriting Projects
#1 — Do some work for free.
This is what I did. I had a friend who had a small business. I said I would write a direct-mail letter for him for free. In return, if the mailing worked, I asked for a testimonial and the freedom to write a short case study about it.
Fortunately, it worked really well and I got my testimonial.
Is it a good idea to work for free? Usually, no. But in this case, I did it for a very specific reason. I wanted and needed some work to put in my portfolio. I also needed some experience working with a client. I needed to learn how the whole freelance work process functioned.
#2 — Work for a local company.
When you're just starting out as an online copywriter, it's hard approaching a company you don't know. Instead, talk to business owners you DO know, even if only casually.
People like the manager of your local gym, favorite restaurant, or dry cleaner.
Offer to do some work for them for a low fee. Again, as with #1, this isn't about making tons of money. It's about building your portfolio and learning to work with clients.
#3 — Look through your old Rolodex.
Okay, so you probably don't own a Rolodex any more. But you know what I mean. Think of all the people you have worked with in the past. Are any of them in a position to introduce you to the marketing people in the companies where they work now?
Introductions through people you know are a powerful way to get work.
#4 — Network with people in your niche.
Go to industry conferences and events. Online, set up an account on LinkedIn. Join appropriate groups on Facebook. Follow influencers and leaders in your niche on Twitter.
This isn't about stalking people for work. That doesn't work. It's about getting your name known. It's about adding value, helping others, and becoming someone people think of when work opportunities arise.
#5 — Reach out with email.
Here's how this works. Draw up a list of companies you'd like to work for and go to their websites. Go to the contact page on the site and you'll find either an email address or a contact form.
Then write a very, very short email asking one simple question: "Could you give me the name and email address of the person in your company responsible for hiring freelance copywriters?"
You won't always get a reply. But often you will.
Armed with that name and email address, write to that person offering your services. Don't write a long essay about yourself. These people are busy. Keep it under 10 lines.
Keep doing this and you WILL get clients. It's a numbers game. The more companies you approach in this way, the sooner you'll get work.
Now for the secret …
In my previous article, I wrote about finding the kind of online copywriting work you'd love to do most.
My point was simple. If you do what you love, you'll do your best work. And the better your work, the more work you'll attract.
And THAT'S the secret.
If you love what you do and you do it well, prospective clients will notice. And they'll talk about you.
If they go to your website and find it is glowing with passion and enthusiasm, they will be drawn to you.
If they can see and feel that you love your work, they will WANT to work with you.
The opportunity for online copywriters is now bigger than ever …
As I have been saying, there is a huge abundance of work out there for online copywriters right now.
This means you can pick and choose the type of online copywriting you want to do most.
All you need to do is take some professional training, choose the direction that feels right for you, and then do what it takes to get those first few clients.
Is all this easy? Nope! It takes work, commitment, and passion.
But the opportunity IS there for the taking.
And if you love writing, you can make a fabulous and enjoyable living as a freelance online copywriter.

The Professional Writers' Alliance
At last, a professional organization that caters to the needs of direct-response industry writers. Find out how membership can change the course of your career. Learn More »

Published: July 21, 2016