Seven Savvy Ways to Structure Your Web-Writing Business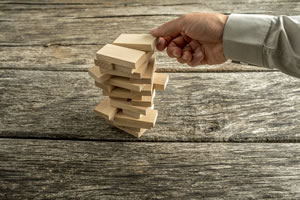 After running a web-writing business for the last five-plus years, I recently accepted a full-time content-writing position. Why? Wasn't running my own business fulfilling and rewarding enough for me? Sure it was, but I'm always on the lookout for the best opportunities to put my writing skills and experience to work … whether that's as a freelancer or in-house, full-time writer.
In this case, a full-time position presented itself and it was just too good to pass up. That's fine with me. I'll keep a few of my smaller freelance clients while I work the full-time job, but I won't go after any new ones. So for the moment, I'm running a hybrid web-writing business: a full-time writing job with a little freelancing on the side.
Now, what about you? What kind of web-writing business are you running? There are so many different ways to set up and 'work' your business today. There's no right or wrong way to do it; just different.
Here are seven different ways you can set up your web-writing business in today's market:
Service-based web writer. This is the classic type of set-up, where you offer your services to clients. You can work with clients in select markets, writing many different content and copy types. Or you can specialize in a particular content type and work for all industries. Service-based work is frequently ad hoc, with clients contracting web writers whenever they have a need.

Examples: Gordon Graham (white papers) and Steve Maurer (B2B and Industrial)

Retainer-based web writer. Regular, or retainer web-writing work is exactly what it sounds like: consistent, ongoing work that writers do for clients, such as blog posts each month, a newsletter every quarter, or social media each week. This type of business is often said to be the ideal for web writers because they have an exact idea of their income each month, and can plan their schedules and lives better. Some web writers have retainer clients almost exclusively, while others have retainers as just one of their sources of income (that's what I did, as I had both retainer clients and ad hoc clients).

Examples: Michael Katz (email newsletters), Kim Townend (social media)

Writer-consultant. An extension of the service-based writer, as a writer-consultant, you help clients work through their needs and requirements first. Then you may also write the projects you've advised the client to do. You could also sub-contract some or all of the writing work to another writer you partner with. The difference in this situation is the client doesn't quite know what writing projects they need, and so they don't reach out to a service-based writer. Instead, they look for a writer-consultant who can help them figure out their needs based on their goals.

Example: Casey Demchak (core message platforms)

Web-writing partnerships with other creative professionals. Forming partnerships with other creative professionals can be a boon for any web writer. The biggest boosts come when you're able to tell a prospect that your "partner" can handle the type of project they're inquiring about even if it's not your forte, and when your "partner" sends work your way.

Examples: web writer + a web designer, an SEO specialist, a marketing agency, another web writer who specializes in a complementary industry/content type/etc.

Information product developers. As web writers, it's always good to have multiple income streams set up so you always have revenue flowing into your pipeline. This is why many web writers launch their own series of information products. Not only are they a good source of income, but they can also help spread your 'brand' and authority online, making you more attractive to potential clients.

Examples: Gina Horkey (multiple training streams for online workers/writers ), Michele Peterson (online marketing training for entrepreneurs), Chris Garrett (online blogging), and Seth Godin (build businesses and entrepreneurship)

Coaching. Before you discount this option because you aren't sure you have anything worthwhile to teach, consider this: Each writer has their own unique experiences and perspective on the writing world, and chances are, there are others out there who would benefit from that information too. Why wouldn't they want to learn from you? It's a lot of work, but can be extremely worthwhile if you've got that teaching gene.

Examples: Ed Gandia, Steve Slaunwhite, Brian Clark

Full-time writer. Last, but not least, we have the full-time web writer. This is a viable option for many web writers today (like me), as there are many companies that value and need good writers on staff. Do a quick search for "web writer" on any job search site and you'll find thousands of postings. (I found over 1,500 on Indeed.com right now, with another 2,911 on LinkedIn.)
There you have it: seven different ways you can approach your web writing. I've used all but one of these models, in one form or another. Whether you fully commit to one type or dabble in a few like me, the fact is, you can set up your web-writing business any way you like — and adapt it to whatever works in your life from one phase to the next.
Now over to you: what's your web-writing business like? Share with us in the comments.
This article, Seven Savvy Ways to Structure Your Web-Writing Business, was originally published by Wealthy Web Writer.

The Professional Writers' Alliance
At last, a professional organization that caters to the needs of direct-response industry writers. Find out how membership can change the course of your career. Learn More »

Published: July 13, 2016