Increase Client Revenues Dramatically With These 5 Emails
By Brian Edmondson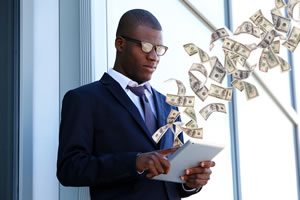 "Clackity-clack-clack – the mail would drop through the slot in the front door, and I would hurry to be the one to go grab it. There was nothing quite as exciting as the mailman coming to bring the colorful catalogs and personal letters from Grammy when we were kids, and I ALWAYS wanted to be the first one to see the mail."
This is the story my friend, Heather, tells about her childhood. It was before the internet, and before we were all bombarded with information from every direction – all day long.
When, for most kids, mail was still magical, because it brought things from far away places.
But now, we're buried by communications all the time. Email, texts, advertisements, Facebook, Instagram, Snapchat and more! And it's becoming harder and harder for any single communication to stand out from the crowd. But it is still do-able. And surprisingly enough, email is still VERY effective for communicating with clients.
In a moment I'll give you five different types of emails you can write to your list that are proven to help you grow your revenue. But first, I want you to keep in mind one very important element that should go into all of these emails – stories.
Why your emails should always, always, always contain stories
Now, let me tell you a story … when I was in high school, I always thought I HATED history class. The lectures were a never-ending parade of names and dates of people who seemed totally irrelevant to me. But then I went to college. And everything changed.
History became a magical class of intrigue and plot twists. One where I saw the ancient world come alive in ways I had never experienced before. It went from the subject I liked least to the subject I liked most.
All because my professor was a master storyteller. Instead of dry, boring facts – he presented the material as a docudrama with names and characters and applications to our lives today. It was mesmerizing.
I learned from that experience there are always two ways to communicate a point – boring or interesting. Both get the information across, but making a point interesting through storytelling has infinitely more value in engaging your prospect and getting him to take action.
And I mean tons more value.
So remember, in each of these five emails below, to make it interesting by telling stories.
#1. Educational email
This is an email you can send to warm up your prospect. It helps him understand the value of good copywriting, and what he can expect as a return on investment from good copy. It helps if this isn't a direct sales pitch. Just an email to educate with a link directing him to more info on YOUR services.
You can also write these kinds of emails for your clients helping to educate their clients about the goods or services they offer.
#2. Testimonial email
A testimonial email can be EXTREMELY powerful. Especially when paired with good storytelling. This type of email should include written or video testimonials from your existing customers and can have a stronger call to action than the educational email.
#3. Aggregate news email
Otherwise known as curation, this type of email is kind of like a Huffington Post for your individual industry, but in miniature. All you need to do to put together this type of email is search the web for related content to your industry, and then put headlines and blurbs together in an email. Make sure you link to the original source and create a link for your OWN product or services, as well.
It helps in this type of email to link to a blog post you've created on a specific topic that GOES with what you're talking about in the news sections.
#4. Video link email
Are there experts in the industry you write for? Are you an expert? One of the easiest emails to write is one with a short story about a video and then a screenshot of the video with a link.
It helps if you embed the video on your own blog or site, because then you can link to further information about your own product on the video page.
#5. Direct offer email
Every four or five emails you send out can be a direct promotion for your own product or service. These emails should always contain at least a short story (like the one at the beginning of the article), but can also be more "pitchy."
By using these five types of emails along with storytelling, you'll create a hugely powerful email and responsive email list over time.
About the author: Brian T. Edmondson is an online business expert who specializes in helping you get more traffic, build your email list, and increase sales online. Learn more about Brian and download your free copy of The Internet Profit Report at http://www.InternetIncomeCoach.com.
This article, Increase Client Revenues Dramatically With These 5 Emails, was originally published by Wealthy Web Writer.

The Professional Writers' Alliance
At last, a professional organization that caters to the needs of direct-response industry writers. Find out how membership can change the course of your career. Learn More »

Published: August 3, 2016