B2B Writer Turns Himself into a "Client-Magnet" Able to Land a Steady Stream of Copywriting Jobs
And Along the Way … He Has Made More Money in the First Eight Months of 2016 than He Did All Last Year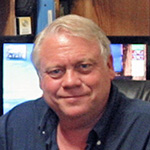 Steve Maurer
When his hours were cut at his day job as an industrial electrician, Steve Maurer took matters in his own hands to replace that lost income.
In 2011, he turned to copywriting. And today, he's done much more than just replace his lost income with freelance copywriting jobs …
"I no longer worry about what next year's raise will be, if any. I'm in charge of my raises now … and last year it was a good one! A very good one," says Steve Maurer. "And my business continues to grow each year.

"As of today, I've almost hit my income level for last year. And there are four more months left in 2016," says Steve. "Currently, I'm still writing content articles for an electrical industry newsletter. Along the way, I've picked up some one-offs in the industry. Recently, I've been contacted by a couple of industry leaders in the electrical-related field. In fact, today I'm sending out a special report I wrote on case studies to one of them."
It took time and hard work to reach this point. In the early days Steve wrote for "content mills" that paid $5 or $10 for an article. It did provide him some great experience and honed his writing skills, but the time spent versus money made didn't make it worth it.
So Steve fine-tuned his self-marketing approach to attract higher-paying clients and higher-profile writing gigs. Along the way, he's become an expert in using the business social network LinkedIn to promote his services.
"LinkedIn is 100% business. Armed with a good profile and effective networking skills, a freelancer can get good clients there. I've had several contact me because of my profile," says Steve, who is also the moderator of the AWAI LinkedIn page.
He left low-paying projects behind long ago, and he's been pulling in fees he deserves and working on projects he truly enjoys. One recent highlight was a content writing gig for an international heavy-equipment moving and deep-sea salvage company. Another was for an electrical device manufacturer. Steve has written in all sorts of niches, but these days he's focused on B2B copywriting jobs.
"My niche or target market is industrial manufacturing with a content marketing specialty. I chose this path because I've spent time in the industry, mostly on the 'sold to' end. So I've had experience on being the customer, listening to sales pitches and reading the marketing materials," says Steve.

"That makes me uniquely qualified to write industrial B2B content because I understand both sides of the process. I've been the 'ideal customer.' (Can you say … USP?). That said, I am getting more training and experience in writing actual sales copy."
Steve credits his business's growth to methodically figuring out what he wanted from his career and setting goals to make it happen, putting a plan a place to guide all that he does. Joining Circle of Success in 2012 also gave him plenty of direction, along with practical skills to make his ideal career happen.
"Probably the most important factor has been following the 3 Ds: Decide, Define, and Develop. Once I decided that I was going to make money writing, other choices were easier.

"Secondly, I defined what my business would look like. That included the type of writing I would specialize in, the type of clients I would prospect, and the niche where I would concentrate my efforts.

"That led to the third D — Develop. Once I defined the who, what, and where of my business, it guided me in the how of doing it. That helped in figuring out what programs would be beneficial to study."
Despite the strides he's made in his career and his growing income, Steve always makes time to learn. He's an eager student, ready to learn all he can to improve his writing skills, as well as build his freelance business.
"Because of my chosen niche, all the AWAI B2B courses have been invaluable. That includes the live B2B Mastery Workshops. I'm going through my second one this year. They've been that good," says Steve.

"That brings up something else that's related. You just can't beat the live events. It was at my first Bootcamp — Project Freedom — that my first decision to make money writing solidified. Last year's Bootcamp moved me further down the road to success.

"One more program I'd like to mention is AWAI's Simplest Guide to Pricing Copy Projects. I think every new copywriter needs to study this program. Once you understand the basis for your minimum fees, you gain confidence. And that shows when talking to prospects and clients."
Steve's goal is to one day be able to quit his day job so he can focus on writing.
"First, I think it's important to understand that the writer's life is an ongoing process. And it will be different for each individual. Not only that, but a person's definition of his or her writer's life will change, will evolve. And I think it's vital to have goals along the way that are important and measurable. Those short-term goals are what keep you moving toward your long-term goal," says Steve.

"My ultimate goal is independence. The ability to make all decisions based on what's important to me and my family. That means I need to transition from a full-time employee to a full-time copywriter."
The way things are going … achieving that goal is in sight.

The Professional Writers' Alliance
At last, a professional organization that caters to the needs of direct-response industry writers. Find out how membership can change the course of your career. Learn More »

Published: August 24, 2016