Three Simple Ways to Design a Web-Writing Website That Matches Your Skills and Personality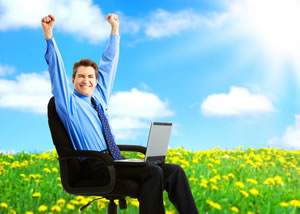 As a web writer, you not only know but also believe in the power of words delivered in an online medium to move people to take action … to educate people … to inspire and entertain them.
It's also important that your clients know you believe what they're hiring you to do has the potential to deliver them benefits in terms of better relationships with their customers, more leads, and ultimately more sales.
One of the fastest ways to show your clients you believe in what you do is to do it for yourself. That means having a website of your own that showcases your freelance web-writing services.
Putting up your own website for your freelance web-writing business is a huge step. A positive step.
But it's also a step a lot of writers stumble over.
One of the reasons is that they aren't sure what approach to take. For example, you might wonder, should you have a blog or website? Or both? Or maybe you're wondering what you need to include on your website … what the most vital components are and what components can wait until later.
These are all good questions. And the truth is there's no single right answer. But the most important thing to do is create a website that represents your professional personality and shows off your strengths.
While the possibilities are endless, there are a few approaches to the structure of your freelance web-writing website that have been proven to work over and over again.
The Standard Website – A Proven Success
The first and most popular option is the standard website.
This is what most writers use.
The standard website almost always includes:
This standard-style website can have other components, too. You could include a blog, a frequently asked questions page, a page to showcase your writing samples, a list of the clients you've worked with, or all of the above.
If you're just launching your business, and this is your first website, this standard approach will serve you well. In fact, it will serve you well, even if you're an established freelancer … which is why you see so many writers take this approach.
Even though the contents of your site may follow a familiar pattern, you can set your site apart with the visual elements and with your own unique message.
To see a couple of well-executed examples of this approach, visit:
Overwhelm Them With Credibility
If you've been in business for a while, and you have a lot of clients and a lot of projects under your belt, you might consider taking a slightly different approach to the standard option, one that showcases your credibility.
With this approach you use your Home page to really wow your potential clients with everything you've done. You provide them with overwhelming proof of your credibility before you even talk in any depth about your services or who you are.
With this kind of site your Home page lists the clients you've worked with. It lists the sites you've been published on. It lists the certifications you've earned. It lists the books you've published. It lists your best testimonials.
To determine if this kind of site structure would work for you, start by writing down every client you've ever worked with. Put a star next to the names that are well-known in your industry.
Next, list all the places you've been published.
Then gather together your favorite testimonials from past clients.
Make a list of your certifications, too.
If everything you've listed starts to feel pretty impressive, this approach could serve you well.
This approach works best if you arrange and organize all the amazing proof on your front page, so it's clear and visually appealing. You don't have to include a lot of text. You could use buttons to link to samples of your work for each client. You could use thumbnails of book covers that link off to the books you've written. You have a lot of design freedom with how you present the information.
The point is, any potential client that visits your site has instant proof you're a serious professional, because they'll see everyone you've worked with and all the testimonials and certifications. Their immediate thought is going to be, "How can I go wrong?"
Aside from the different approach to the Home page, this structure is otherwise similar to the standard option. Make your contact information easy to find. Include an About page and a Services page and any other resources you think will help you attract and land the type of client you want to work with.
For examples of sites that have an abundant amount of credibility, visit these links:
Be Irresistibly Authentic
If you're seeking a very specific type of client — and I mean specific in terms of client personality, not necessarily industry — then you might take a completely different approach to your site.
You might use your Home page to highlight what makes you unique as a person and what makes you fun to work with.
The irresistibly authentic Home page won't appeal to everyone. But the people it does appeal to are going to be a very good fit for your workstyle.
The best thing about this type of Home page is there really aren't any rules other than to let your personality shine.
You can organize it however you like and include whatever you think will attract the right kind of client.
You can play with linking structures — in one of the examples below, the site doesn't even have a navigation bar. The navigation is all embedded into the very quirky Home page text.
You can include images and be a little cheeky, if that's your style.
The one thing I would say about taking this approach is that you have to push the envelope. What you do has to be fresh. It's got to crackle with personality in one way or another. Otherwise it will seem out of place.
This approach is a bit riskier, but it also has the potential to make a bigger splash. You just have to decide if it suits you — and if you suit it — or if you'd be better served by a more traditional structure.
For some examples of websites that use this approach visit:
A website becomes your online calling card, your virtual storefront, your hub of business. It will make a first impression on many of your future clients. And it will demonstrate that you believe in what you do and that you know what you're doing. So, it's pretty important.
Whatever structure you choose, make sure it highlights your strengths and experience. And don't forget to include an easy way for clients to contact you.
And remember, you can always change your approach later. The important thing now is to move forward and get that website built!
This article, Three Simple Ways to Design a Web-Writing Website That Matches Your Skills and Personality, was originally published by Wealthy Web Writer.

The Professional Writers' Alliance
At last, a professional organization that caters to the needs of direct-response industry writers. Find out how membership can change the course of your career. Learn More »

Published: August 31, 2016