Harness the Power of Social Sharing to Build Your Copywriting Business
By Steve Maurer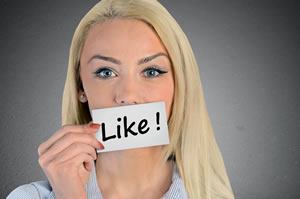 One key to building a copywriting business is making connections. You need to get the word out. Social media networking is a way to make yourself known in the vast world of cyberspace.
It takes time to build up a following. But there are some tricks and strategies you can use to speed up the process. These tricks don't take much time to implement. And once you start doing them on a regular basis, you'll see the effect snowballing.
Really these aren't "tricks" at all. They're networking basics, and knowing what they are is fundamental to using social networking effectively. They are:
Networking and the 6 degrees of separation
The differences in liking, commenting, and sharing
How to comment effectively
Leveraging OPC (Other People's Content)
Let's start with the first one.
Networking and the 6 Degrees of Separation
The concept of "the 6 degrees of separation" was proposed by author, poet and journalist Frigyes Karinthy. It was the basis for his 1929 short story, Chains.
The idea is that a single person is connected to everyone else in the world by only 6 linked connections. It's been the subject of numerous plays, movies and even scientific research.
And even though the world's population has dramatically increased, the actual degree of separation has, in fact, decreased.
A study done by Facebook proves interesting. According to a page on their research blog, Steve Maurer (yeah, this Steve Maurer) is separated from everyone else by 3.21 connections.
Obviously, online networking has shrunk this small world even smaller. What's the main take away from this networking fundamental? You're connected to everyone in the world. And the number of steps between you and any other person is diminishing. Which means it's easier than ever to get introduced to someone you want to meet.
By the way … that includes your potential clients.
The differences in liking, commenting, and sharing
Have you ever "liked" a post on LinkedIn or Facebook? Or retweeted something cool on Twitter? In my opinion, the only thing worse, at least for social networking, is just to read it and leave.
Why?
"Drive-by liking" does little to get attention. And that's particularly important when reading posts from your potential clients.
Take LinkedIn, for example. I follow companies that would make great clients. By doing that, their posts show up in my news feed. Often, they link to articles on their sites. If I read something interesting, I could "like" the post, giving it that quaint little thumbs-up.
After all, these companies do have someone monitoring their social media. It's one way to gauge effectiveness. But, look at a post on your news feed. In order to see who liked it, you need to click on the symbol. In other words, your face … and name … are hidden from view.
While the social media manager may log the number of likes, she's not there to hunt for names. But, what does interest her are two things: who is commenting and what they are saying and who is sharing her content with their audience. The comments give her a more accurate idea of what people really think about the post. And the shares show her who is helping her extend her reach.
If you want to get noticed by these companies, don't just like … comment and share!
How to comment effectively
Understand that there's a right way to do this. Comments like "Great article, got a lot out of it," or "Woohoo, good stuff," don't mean much. What you need to do is make a meaningful comment. Something with substance.
And that means you actually have to read the article that's linked. I know, that's going to take some time. But your goal is to get noticed, right? I made a thoughtful comment on a company's update after reading one of their articles.
In the following days, my profile was viewed by no less than four people from that business.
Thoughtful comments get attention.
For even more attention-getting impact, make a comment and share the post or update. When you click "Share" on LinkedIn, you'll get a pop-up with the article link. And one more time, you have an excellent chance to make yet another great comment.
Companies love that! Exposure to an increasingly larger audience is what they crave. Sharing content has not only resulted in my profile being viewed, but also phone calls to my office.
I'm looking at a company post right now, and it has 532 likes, 49 comments and 0 shares. Hang on a minute … I'll be right back.
By the way, if your Twitter account is linked to your profile, your update shows up there as well. Mine is.
In fact, my Twitter account is linked to my Facebook wall and company page.
By sharing an update just once, it goes out to literally thousands of readers. I'm getting a prospective client's message out all over the world, using the "6 degrees of separation" idea.
And did you notice? All I write are a few meaningful sentences. Some comments are as little as 140 characters long. (Think, Twitter limits.)
I don't have time to create a new blog post or LinkedIn article every day. But, I have learned to leverage OPC …
Other People's Content.
Leveraging OPC (other people's content)
You got a little taste of promoting OPC in the previous section. By sharing their content in updates, you help promote that company. That can also be done directly from their website, using the social sharing icons.
I often do that myself. And, since I have my accounts linked, I only need to click the LinkedIn share button. Twitter and Facebook are updated automatically.
And of course, my shared updates show up in the feeds of my followers and connections as well. To date, I have 1,370 followers on LinkedIn. Of those, 1,260 are direct connections.
That means over 100 people follow me because they want good, quality information. And they know that I know where to find it. This is particularly noticeable on Twitter.
I have 299 followers on Twitter. And that number goes up weekly, because I share good content. As a responsible content curator, I've become a trusted source. A likeable expert, if you will. On all three platforms – LinkedIn, Twitter, and Facebook.
This all leads to something even better. When I do post original content, it gets read.
And shared. All over the internet.
Parting shots
Honestly, this article has only scratched the surface of the amazing potential of social media sharing. But hopefully, you now have some ideas to tinker with, to gauge the effect it could have on your web-writing business.
I encourage you to explore the possibilities social sharing presents. After all …
Your next client could be only 3.21 degrees away.
This article, Harness the Power of Social Sharing to Build Your Copywriting Business, was originally published by Wealthy Web Writer.

The Professional Writers' Alliance
At last, a professional organization that caters to the needs of direct-response industry writers. Find out how membership can change the course of your career. Learn More »

Published: August 24, 2016