The Shy Freelancer's Guide to Landing Clients
No-Hype Self-Marketing Strategies that Get You High-Paying Copywriting Jobs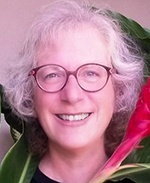 Marcia Yudkin
If you've ever been reluctant to contact potential clients — maybe you don't know what to say and don't feel ready … or if you're not comfortable tooting your own horn … that doesn't mean you have to settle for less with your copywriting career. In fact, you can thrive and land top copywriting jobs with the help of Marcia Yudkin.
Marcia specializes in helping introverts (she's a self-described proud introvert herself) gain the confidence to market their services. But no matter how you feel about self-promotion, you can benefit from Marcia's step-by-step promotion strategies. She's dedicated to helping you market yourself creatively and cost-effectively while remaining true to your values — no hype necessary.
With 35 years in the copywriting, freelancing, and publishing world, you want Marcia in your corner. And AWAI's FastTrack to Copywriting Success Bootcamp and Job Fair is your chance to learn her techniques and strategies first-hand — and meet her in person, too. She'll be a featured speaker and, like all the experts at the event, she's approachable one-on-one for questions.
Marcia been mentoring copywriters since 1998 and speaking and writing about marketing for introverts since 2008. Her books, including 6 Steps to Free Publicity, Persuading on Paper, and Meatier Marketing Copy, are in the collections of more than 3,000 public libraries in North America. They've been translated into French, German, Korean, and Japanese. In 2014 and 2015, she organized and led a No-Hype Copywriting Telesummit.
That's quite a resume. Her colleagues value her work too. As fellow Bootcamp speaker Nick Usborne says:
"In the world of web copywriting and Internet marketing it's sometimes hard to figure out who you should listen to. An awful lot of noise is made by hundreds of self-declared 'gurus' who promise that you too can be rich, if you just open your wallet and follow their instructions.

"Sigh … Wouldn't it be nice to find someone with more knowledge and teaching experience than 90% of those gurus … and without all the flash, the noise, and the endless hype?

"Fortunately, I know just such a person. Her name is Marcia Yudkin. She and I worked in the same circles back in the early days of online copywriting and ecommerce, in the late 1990s. She absolutely knows what she's talking about. She's a great teacher too.

"She's the real deal, without any of the hype."
Marcia spends four months a year at the beach in Maui, where she swims a mile in the ocean every day, and the rest of the year she lives in the woods in Western Massachusetts.
And this October 19–22, she'll be live on stage at AWAI's FastTrack to Copywriting Success Bootcamp and Job Fair.
But be sure to sign up before August 31st at midnight to save $300 off your cost of registration.

The Professional Writers' Alliance
At last, a professional organization that caters to the needs of direct-response industry writers. Find out how membership can change the course of your career. Learn More »

Published: August 29, 2016