Learn How to Become a Copywriter from the Best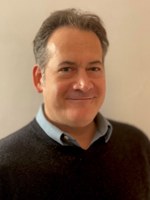 John Forde
Bob Bly Calls Him "One of the Top Direct Marketing Copywriters in the World"
He's Generated Millions for His Clients … and He's Going to Show You How to Become a Copywriter at Bootcamp
For more than 20 years, John Forde has helped his clients in the financial, health, and travel industries bring in hundreds of millions of dollars in sales. He's been frequently recognized for his work along the way, earning the Ouzilly Award for Sterling Copy, the 2008 AWAI Copywriter of the Year award, and 2009 "Most Valuable Player" Award from Agora Financial Publishing.
But he also relishes passing on his knowledge to new freelancers — he's ready and willing to teach you how to become a writer. He's a talented speaker and engaging mentor … one of the friendliest experts you'll meet at AWAI's FastTrack to Copywriting Success Bootcamp and Job Fair this October. He's also taught copywriting training programs and seminars in London, Paris, Bonn, Warsaw, and Baltimore.
The top copywriters in the world follow John's work … and that means you should too. As copywriter and marketer Sean D'Souza says, "The toughest thing in the world is to write copy that educates and entertains. John Forde does just that. And unlike a lot of hype-merchants, John does it without the hoopla. If there is one person you need to read — and read on a consistent basis — it's Mr. Forde. You'd be a dope not to."
John also writes a newsletter, The Copywriter's Roundtable, that is widely read by the greats of the industry. As top copywriter Bob Bly, a familiar face to AWAI members, put it:
"The single best e-newsletter on copywriting is John Forde's Copywriter's Roundtable. I suspect this is because John is one of the top DM copywriters in the world. Most copywriting newsletters, by comparison, are put out by novices."
John lives and works in Paris with his wife and two children and enjoys all that the City of Light has to offer. But he will, of course, be traveling to Delray Beach, this October 19–22 for AWAI's FastTrack to Copywriting Success Bootcamp and Job Fair.
Get your complete guide to Bootcamp to find out who will be joining him and get all the other details on this event. If you sign up before Aug. 31st, you'll save $300. And keep in mind that Bootcamp does sell out. So don't delay and register now.

The Professional Writers' Alliance
At last, a professional organization that caters to the needs of direct-response industry writers. Find out how membership can change the course of your career. Learn More »

Published: August 31, 2016