Live: The Barefoot Writer August Issue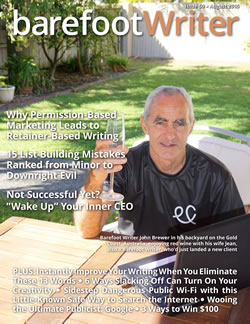 I can barely contain my excitement. That's because here at Barefoot Writer we're STOKED to celebrate our 60th issue — and five years! — of publishing success stories about people pursuing freedom-filled living through well-paid writing.
This means we've featured 180 interviews with writers who are excelling in this world. We've shared nearly 200 articles on ways to write better and faster, stay motivated, and build the career of your dreams.
And there's no end in sight. In the months ahead, our goal is to bring you even more helpful hints, little-known shortcuts, and inspiring content to aid you as you press forward in your own happy writing journey.
We kick that off with our August issue, which includes eye-opening pieces like …
How to instantly improve your writing when you eliminate these 13 words
6 ways slacking off can turn on your creativity
Advice for wooing the ultimate publicist: Google
Why permission-based marketing leads to retainer-based writing
Waiting to be successful? Tips to "wake up" your inner CEO
And we'll cap it all off with a lively interview with content writer and author Pam Neely. Enjoy!
Click here now to read your August issue of Barefoot Writer.
By the way, have you redeemed your special invitation to join the Barefoot Writer Club? Because the clock is ticking … and I can pretty much guarantee it'll be the best decision you've ever made for your writing career.
Here's why:
The Barefoot Writer Club offers you a community of support like no other — literally. Because when you think about it, plenty of folks out there want to make a living writing. Plenty just want to write.
But too many see the writing world as a place of competition and rivalry.
Yet it's NOT.
We know from experience — after watching hundreds of writers launch successful, paid writing careers — that the recipe for success is knowledge plus support.
Without support from people who understand your goals and your drive to write, it's too easy to fail.
But as a member of the Barefoot Writer Club, that kind of thing doesn't happen. You'll be part of a genuinely supportive bunch of people who give free advice and critiques, who applaud your successes and help you move past your hurdles.
Plus, the Barefoot Writer Club gives you access to loads of other benefits — like detailed reports that teach you shortcuts to money-making success, and discounts on the hottest writing guides.
In short, this club is your win-win ticket to a life of access and satisfaction. Join the Barefoot Writer Club today and get ready to enjoy the paid writer's life you've always dreamed about.

The Professional Writers' Alliance
At last, a professional organization that caters to the needs of direct-response industry writers. Find out how membership can change the course of your career. Learn More »

Published: August 5, 2016