Six Figure Copywriter Says Following Your Passion Is NOT Always The Key to the Writer's Life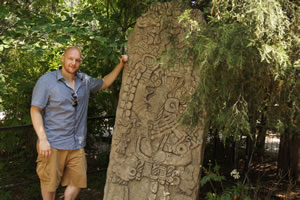 Henry Bingaman
More than seven years ago, when Henry Bingaman left his job as a flight attendant to become a full-time freelance copywriter, his family and friends didn't get it, especially when he was struggling during his first couple of years in the industry, not finding clients or steady paid work.
But he was determined to keep going.
"I think my biggest achievement is being too stubborn to stop chasing my goal," says Henry.
These days, things are looking up, to put it lightly.
"When I first started copywriting, I left a $21,000 a year job with the big dream of someday earning $100,000 a year. Now I get paid more than $100,000 from a single good project," says Henry.
Since 2013, Henry has been working exclusively with powerhouse financial publisher, Money Map Press. He writes sales letters, video sales letters, and other copy promoting financial newsletters, trading services, and more.
"I don't like to call myself a 'freelancer.' I like the independence (and tax benefits) the term suggests, but overall, it sounds too transient," says Henry. "I prefer to build a relationship and go deep with a single client for a long time. I think contractor is a better term."
He loves the financial niche. It's certainly one of the most lucrative, if not the most lucrative, for writers in the copywriting world. But it wasn't his first choice.
"My first niche was health. I chose it first because the way the body works is fascinating to me. But also because there's a lot of small clients in the health niche (local doctors, naturopaths, chiropractors, etc.) that need good direct response copy," explains Henry.

"My current niche is finance. I kind of fell into it because there was a project available, and I had the opportunity to be copy-chiefed by one of the best writers in the industry."
That's one of Henry's biggest pieces of advice for new writers. Be flexible when it comes to picking your niche; don't tie yourself down. Be open to possibilities.
"If you happen to have a passion for health or finance or self-improvement, that's fine. Go for it. But I think you'll be better off if you develop your curiosity muscles," says Henry.

"Read broadly, ask a lot of questions, and find ways to relate to every different kind of topic. That way you can be passionate about anything and you can follow the opportunity."
Henry says doing so helped him find a niche that pays him well into the six-figures every year. And he adds that curiosity comes into play in other ways — it's one of three essential traits of a successful copywriter, as he puts it:
"1. Curiosity. I love to learn new things and share that information.

"2. Pride. It's a disparaged trait, but I think it's beneficial for a writer. Being too proud to quit got me through the tough early days. And being too proud to do bad work has always kept me pushing the envelope.

"3. Mentors. I've been lucky to work under some of the best copywriters in the world like Mark Ford [one of the guiding forces of the creation of AWAI] and Jedd Canty [Copy Chief for Money Map Press]."
All three elements combined have given Henry a career he couldn't have imagined in his "old" life … and positioned him to take advantage of anything that comes his way in the future.
"To me, the writer's life represents self-determination. The ability to write compellingly gives you the ability to create your own opportunities," says Henry.

The Professional Writers' Alliance
At last, a professional organization that caters to the needs of direct-response industry writers. Find out how membership can change the course of your career. Learn More »

Published: August 24, 2016