The Hidden Truth About Failures: How They Improve Your Likelihood of Success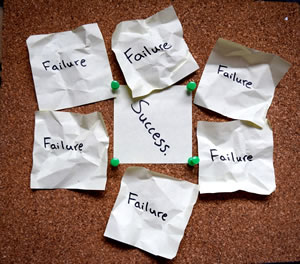 Failure (feyl'-yer). n. A person or thing that proves unsuccessful; an insufficiency; nonperformance of something due, required, or expected.
The definition of "failure" might make you wince a little. It's a heavy word used to describe some of the worst things that can happen in life. And we're taught from an early age to do what we can to avoid it at all costs.
We've been misled.
Failure is not the monster under the bed. Rather, it's an opportunity for learning, growth … and ultimately, achievement. Studies have shown that in some situations, failure actually improves your likelihood of success.
As a writer charting your own career path, failure is virtually certain somewhere along the way. By embracing it when it happens, you can learn to not only minimize your negative reactions to it, but also to benefit from it. Read on and I'll tell you why and how.
Failure Is a Beginning, Not an End
When something "ends in failure," it's only that particular course of action for that particular project that is ending. But another way to look at is that you've reached the beginning of a new attempt.
And what's the worst thing that can happen with your next try? You might fail again, sure. But you've already been there and done that. And you survived. A second failed attempt isn't a further setback. At worst, it's a lateral step.
So don't overdramatize your failures — or let them stop you from dusting yourself off and getting back out there.
Failure = Opportunity
Lessons taught by failure are just as valuable as those taught by success, if not more so. Consider all the things you gain that simply don't apply when you're successful right away.
Failure helps us learn where we need to improve. Most of the time, failure is not "total," but is a matter of making a few changes. It helps give us clarity. For example, I recently failed to land a couple of projects. After asking my prospects why, both said it was because of the cost. So I know where the problem is now. Which means I don't need to waste my time wondering if my ideas were uninteresting or written poorly, if my revisions policy is reasonable enough, or if there were any other shortcomings with these proposals. I know the reason I failed to land the projects, and I know I can address this issue by either lowering my rates, or preferably, finding clients who will pay more.
It teaches us what doesn't work. One major benefit of failure is that you're experimenting and gaining valuable experience. Knowing what doesn't work saves time later and can help prevent recurring mistakes. And by expanding the field of "things that don't work," we narrow the category of "things that will work," bringing us closer to figuring it out. As the old Thomas Edison quote says, "I have not failed. I've just found 10,000 ways that won't work."
Failing helps us develop willpower and grit. It can be tempting to give up when things don't go the way we want or expect them to. But by accepting failure as a stumbling block rather than an absolute barrier, we develop the resilience to continue trying. And as we develop the ability to bounce back, it takes less effort to continue on the path to our goal. (Not to mention that willpower and grit make life easier overall.)
It can provide powerful motivation. Failure isn't always something we have to force ourselves to step forward from slowly. Instead, it can instill a sense of desire and urgency to try a little harder, learn a new skill, or come up with a plan that will more likely be successful next time.
How to Fail
The first time you tried to walk, you fell down. You might've cried a little, but you tried again pretty soon afterward, and kept at it until you mastered your new skill.
Failure is inevitable. We have all failed, and we will continue to do so. As writers, it might be by failing to win a project … failing to bring in the sales we'd hoped for … or maybe having a critical typo (such as "can't" instead of "can"). So don't panic when you fail at something. Instead, "fail forward" so you learn and benefit from the experience — and set yourself up for success in the future. How to do that? Let me share a few of my own "fail forward" strategies:
Be honest with yourself. Don't give your failure more meaning than it should have, but don't minimize its importance, either. Recognize and acknowledge that things didn't go the way you intended. And go ahead and wallow — briefly. It's okay to feel sorry for or angry with yourself. Burying these kinds of feelings makes them more likely to well up later in an unproductive way. So let yourself feel these emotions, but only for a short time.
Pull the plug on the negativity by commending yourself for trying. Many people don't have the courage to write — never mind attempt to earn a living as a writer. But you do! Celebrate this, and the fact that you're working hard to create the life you want.
Examine the failure as objectively as possible. This can be difficult, so it may help to picture yourself as an uninterested third person, or as if you're trying to help a friend through a challenge. Why didn't things work as expected? What are some alternatives? Spend time thinking, learning, and absorbing.
Take stock of the current situation. Is any of it salvageable, and if so, is it worth saving? Decide whether it makes more sense to start from where you are, or from scratch — or if it's time to move on altogether.
Throw yourself into your next project with gusto, whether it's brand-new or a revamp of your failed efforts. Stay busy and maintain your focus on moving forward.
Follow these steps and soon enough, your failures will be mere tiny blips on the timeline of your writer's life. They won't sting the way they first did, and they'll make you stronger and wiser. And when you do succeed, the difficulties you've encountered will make your victory that much sweeter.
This article, The Hidden Truth About Failures, was originally published by Wealthy Web Writer.

The Professional Writers' Alliance
At last, a professional organization that caters to the needs of direct-response industry writers. Find out how membership can change the course of your career. Learn More »

Published: August 10, 2016