How the Pokémon GO Craze Can Help You Find New Web-Writing Clients
By Mandy Marksteiner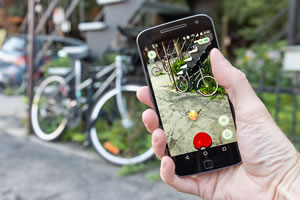 Last week I had a meeting with Marguerite McClay, the owner of Rose Chocolatier, a handmade chocolate shop in Los Alamos, New Mexico.
We sat together at one of her tables. Other than us, the place was empty, which is why I was there. Their chocolate is divine, but they needed more customers immediately.
Rose Chocolatier is located in a small space next to the DMV in an area where there isn't much foot traffic. Los Alamos is a city that (sadly, since I live and eat here) has been named the #1 worst place to open a restaurant in the United States by Restaurant Business Online. Restaurants are continually opening up and continually going out of business. And it happens fast, too.
Rose Chocolatier's summer business has been slow, and they've had to cut staff hours. Over the past few months, I've overheard people say, "I've been meaning to go there … but haven't gotten around to it."
Marguerite needed a plan to bring in new customers, and she needed it fast!
If customers aren't thinking about chocolate when they're walking around downtown … what ARE they thinking about?
Rose Chocolatier needed a cost-effective way to get customers to walk in the door. When Pokémon GO was released, Marguerite saw the opportunity. I was excited to help her out, to see firsthand how we could use the augmented reality game to increase her business.
She's not the only small business owner that recognizes the marketing value of Pokémon GO. All around the country, herds of young kids, as well as people in their twenties, thirties and forties who grew up playing and watching Pokémon, are now wandering around and entering stores that have posted lures. (If you're unfamiliar with the ins and outs of Pokémon GO, a lure will attract Pokémon to the location where you set it. And, in turn, the Pokémon will attract potential customers.)
My goal was to help this business owner benefit as much as possible from the Pokémon GO craze
Our first step was to define who would do what. Marguerite was going to be responsible for setting up the lures, and I would be responsible for spreading the word and ensuring she got some business for her efforts.
We made the Pokémon GO promotion as specific and newsworthy as possible. Pokémon GO came out shortly before the Los Alamos ScienceFest, a week-long festival celebrating the history of Los Alamos. My client was going to sell fudgesicles and other chocolates in a prime location at Fest, and she hired an enterprising teenager to plant the lures every half hour right in front of her booth.
I wrote a promotional article that zeroed-in on the four hours her booth would be at ScienceFest, urging people to catch the Pokémon before they eat all of the chocolate.
We looked for ways to involve other people and ask for help. The world can be a competitive place, but I've noticed the more you let people get involved, the more likely they are to help you. Connecting the Pokémon campaign with ScienceFest meant the Chamber of Commerce might be willing to help us spread the word. So we approached them.
We considered the needs of the players. Playing Pokémon GO drains your cell phone battery. My client and I decided she should bring extra power strips and use her ads and window signs to welcome players to charge up. (The outlet is right next to the case of chocolate truffles.)
We were open to unexpected opportunities. My son was taking video classes at the local cable station. After I took on this project, I asked the teacher if he would like to make a Pokémon-themed video to take place in the store. He said yes!
We made a plan to capture the contact information of our Pokémon GO players. It's not enough to have gamers wander into your store and bump into walls as they try to catch cartoon characters. Foot traffic is worthless if those people don't become customers … or at least leads. In the article I wrote to promote the event, I gave the Pokémon GO players simple directions: go to the booth, show your PokéDex, and enter to win a prize (lots and lots of chocolate).
We had fun with it! Pokémon GO is a fun game, and any attempts to woo players into a business also need to be fun. McClay is planning to throw parties, host battles, and develop Pokémon-related products like PokéBall chocolates.
We followed up. The people who signed up for the contest gave their email addresses, giving my client the opportunity to follow up with emails about other events, special offers, and information about the company.
Can you do something similar for your clients? Absolutely you can!
Without a doubt, Pokémon GO is a great opportunity for businesses. As a web writer, this kind of trend (or mania) gives you a prime reason to reach out to new clients with an offer to help them find ways to take advantage of it.
This article, How the Pokemon GO Craze Can Help You Find Web-Writing Clients, was originally published by Wealthy Web Writer.

The Professional Writers' Alliance
At last, a professional organization that caters to the needs of direct-response industry writers. Find out how membership can change the course of your career. Learn More »

Published: August 17, 2016