Are You In? This Is It … Fastest Path To Freelance Writing Success!

This is your last chance to get the program that will take you from a writer-in-training to a fully paid, working writer in as little as a week writing email copy …
And save $300!
Normally, access to Email Copy Made Easy — including the 12 program modules, the 13 "Over My Shoulder" email training videos, bonus webinars, samples, templates, 90-Day Success Plan, and cheat sheets — costs just $497.
But until tonight, September 30th at midnight ET, you can save $300 off the program!
That's right, for only $197, you can get complete access to the program, and turn around and make a profit on your very first project.
Plus — I've got a special bonus to help you land your first client …
Jay's Exclusive "5 Ways to Land Your First Client"!
Once you finish Email Copy Made Easy, you'll have all the know-how and confidence you need to work with your first client.
But how do you go about finding and landing that first client?
You'll find out how to get your dream client's attention … and get them to hire you … in Jay's special bonus webinar, "5 Ways to Land Your First Client."
This webinar is based on client acquisition approaches that Jay and his successful students have personally been using to land clients.
When you order by midnight ET tonight, September 30th, you'll get:
8 hours of training in 12 modules …
Examples, "legal to steal" templates, and Swipe Files …
13 "Over My Shoulder" training videos with Jay …
Access to the active, supportive online community …
5 additional webinars chock-full of FAQs and advanced advice …
Jay's personal cheat sheets and resource lists …
LIVE Spec Assignments that make landing your first client a cinch …
The 90-Day Success Roadmap …
Help landing your first client from Jay's bonus webinar …
Personalized feedback on your email copy samples from one of our go-to email experts.
PLUS, you'll save $300 and get 30 full days to give it a try.
If you decide email copywriting isn't for you, just give Member Services a call. They'll get your money refunded immediately — no questions asked.
Click here to order Email Copy Made Easy right now — and save $300!
Or, get more details about the program here.
Remember, you could be up and running as an email copywriter in only eight hours …
You'll pay only $197, and you'll have a full 30 days to try it out and see if writing emails is for you.
Learn from Jay … follow his tips for landing clients … do a few assignments … and collect your fees.
If you decide email writing isn't for you, no worries. Just call our Member Services team and they'll refund your money immediately.
There's nothing to lose!
This is your last chance. Check it out for yourself.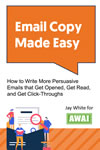 Email Copy Made Easy: How to Write More Persuasive Emails that Get Opened, Get Read, and Get Click-Throughs
Learn to write emails that drive people to take action, and take advantage of the fastest way to make a living as a writer. Learn More »

Published: September 30, 2016