AWAI Member Leaves Corporate World for Copywriter Success
The Copywriting Career that Almost Didn't Happen


Now This AWAI Member Makes Double Her Old Salary, Travels When She Wants, and Loves Her Copywriter Success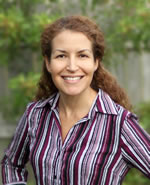 Li Vasquez-Noone
Years ago, Circle of Success member Li Vasquez-Noone cracked open AWAI's Accelerated Program for Six-Figure Copywriting and immediately decided to send it back … well, almost.
"It was the first program I bought, and how I found out about AWAI in the first place. And you know what? I almost returned it! I didn't want to write sales letters, so I thought it didn't apply to me. Boy, was I wrong … I don't write sales letters very often, but I still use the skills I learned in The Accelerated Program every day. It was definitely the best way to start," says Li.
It was a pivotal moment in her fledgling career – A decision that allowed her to quit the unfulfilling corporate world and find copywriter success as a freelancer.
"To me the writer's life means freedom. To do what I want, make the income that I deserve, to work on projects I want, and work with the people I want (no jerks allowed)," says Li.

"I'm making almost twice as much as I was in my last office job. I hadn't actually compared for a while. Once I started making enough to cover the bills and have some extra, it didn't really matter anymore."
Over the years, Li has kept busy with a variety of projects. And after writing online articles and blogs for dozens of clients to boost their web presence and SEO in the real estate, manufacturing, health, travel, and retail industries, she's settled on two main niches, lifestyle and printing.
"I can't really say that I chose the lifestyle niche, it seems to have chosen me! It's something that gradually happened over time. A few years ago, I pitched some ideas to a company I loved in the niche, just because I wanted to write something for them. I got an article assignment out of it. Then I pitched again, and got another article.

"I kept pitching, and the projects kept coming. Slowly at first, then more and more, until most of my work was in this niche. Fortunately, I love it!"
These days she works mainly with Mindy McHorse, the managing editor of AWAI's monthly magazine, Barefoot Writer.
"I get to help new members realize their dreams of writing for a living. It's great! I also manage Barefoot Writer's social media accounts, and I've helped grow our online presence, especially in Facebook," explains Li.

"The Barefoot Writer Facebook page has over 63,000 likes, and our Barefoot Writer Members Only Facebook group has grown to a community of over 2,000 members. It's a great place for our members to meet each other, network, ask questions, and share information."
As for how she got into the printing niche, it comes down to another perk of the writer's life. She's not tied down to an office job or 9 to 5 schedule — and she can take on any project she pleases. So she's able to be chief copywriter for her husband's business.
Noontime Labels prints custom bottle labels for home winemakers and beer brewers. And, Li explains, with her copywriting business doing so well, they recently decided it was time to expand. They bought a bigger printing press to handle bigger orders from commercial brewers and winemakers — or any business that needs labels for branding or packaging. Li's copy will be an integral part of the launch of this new venture.
"I'm starting a sales funnel for this Very Important Client. I get to design and write a marketing campaign, with lead magnets, emails, ads, landing pages, sales letters, the works. Very exciting!" says Li, who adds that this sort of opportunity is exactly why she embraced freelancing.

"I'm on a trip with my husband right now, for his business. I didn't have to ask anyone's permission for time off, or tell anyone where I was going. It was my decision to take this trip. It's great to have the freedom to do this!"
If you'd like to see if the skills in AWAI's Accelerated Program for Six-Figure Copywriting can change your career the way it did for Li, you're in luck! Right now you can take a 30 day test drive of the course for just $29.
Get more information about how you can try The Accelerated Program and be on your way to the writer's life too!

The Professional Writers' Alliance
At last, a professional organization that caters to the needs of direct-response industry writers. Find out how membership can change the course of your career. Learn More »

Published: September 22, 2016