Fastest Route to Well-Paid
Writing Assignments

You don't have to "pay your dues" for years to earn decent fees as a writer.
You simply need to focus on the writing opportunities with ongoing demand … and with little risk for someone to give you a shot.
Like the one you'll learn about here.
It's the fastest route to well-paid writing assignments.
The lowest rate for this assignment is typically $100 for 250-500 words.
But typically, clients pay more — around $250-$300 — for the same assignment.
And the coolest part?
Businesses typically assign 3-7 of these projects at a time.
AWAI member M. McClure recently told us he's getting paid $290 each time he writes this assignment …
And you can too!
And as you get more experienced, you can raise your fees. Top experts in this field will charge $1,000 for the same 500 words!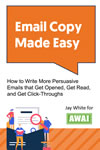 Email Copy Made Easy: How to Write More Persuasive Emails that Get Opened, Get Read, and Get Click-Throughs
Learn to write emails that drive people to take action, and take advantage of the fastest way to make a living as a writer. Learn More »

Published: September 28, 2016