Freelance Success and an Ideal Writer's Life …
All From Building a Website!
AWAI member Laura LaChapelle is in the groove with her freelance career, with steady clients and plans to take on exciting new work.
"I work on copywriting projects, as well as marketing plans and marketing project management, which is what my professional background was in. I've also been working towards beginning a new venture as a book editor as an addition to my services," says Laura. "I was hired by one of my clients to be on the staff of their integrated marketing communications department, playing an integral role in the department and the company."
A big part of her success was her freelance website, which promotes her services, highlights her qualifications and expertise, and showcases the professionalism of her writing business. It's a vital part of self-marketing these days for any freelancer, and key to attracting and landing the type of clients you want to work with. For Laura, her website (http://lachapellecommunications.com) has been instrumental in her career.
"My freelance website clearly displays to current and prospective clients what I do and what my values are. It shows that I am a professional who takes myself, my work, and my clients seriously. My website is 'proof' that I am the president and CEO of my business, and not someone who just takes some projects on the side to 'stay busy,'" explains Laura.

"My website has absolutely brought in some big clients and had a large impact on my career. For example, when I first chose my niche of hospitality, travel and tourism for my copywriting freelance business, my website convinced a hotel chain to hire me for a project."
Laura created her website through AWAI's Build Your Own Freelance Website in Four Days Webinar Series. In the program AWAI President Rebecca Matter and guest experts walk you, step-by-step, through the process of creating and putting your own customized website live online. No need to be a "techie" or know any programming. The simple-to-use software and online services available today mean anybody can create a professional-looking website quickly and easily.
As part of the program, you are given tasks to complete during and after each session. This keeps you on track and ensures that your website will be ready to launch by the end. There's also a prize for the best-looking websites. Laura was one of the winners in 2012.
But for Laura, awards and business success are just part of the equation. It's what she's able to do with the financial and time freedom her freelance career brings that counts the most.
"I have absolutely been living the writer's life! For me, that means being able to work out of my house so I can take my two boys, aged 10 and 8, to and from school as well as volunteer at their school when needed, go on their field trips or attend their school parties," says Laura.

"In addition, the writer's life has allowed us to be able to adopt a third member of our family, a one-year old girl, after fostering her for six months, and to also stay home with her. The writer's life also means my family and I can go on vacations, and I can choose to either work while away or take some true time off.
All in all, Laura has found her ideal writer's life.
Find out more about the Build Your Freelance Website in Four Days Webinar Series.
And sign up before Septmber 6 for a $200 discount.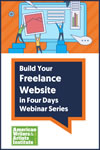 Build Your Freelance Website in Four Days
No matter what niche you're in, if you're a freelancer, you must have a website that showcases what you do. You can launch your own professional website in just 4 days. Experts show you every step. Learn More »

Published: September 5, 2016