Freelance Writer Jobs Are On The Top-Paying Work-At-Home List for 2016

SimplyHired.com's 2016 list of "10 Top-Paying Work-At-Home Jobs in America" includes WRITER. Let's look at what "top paying" means.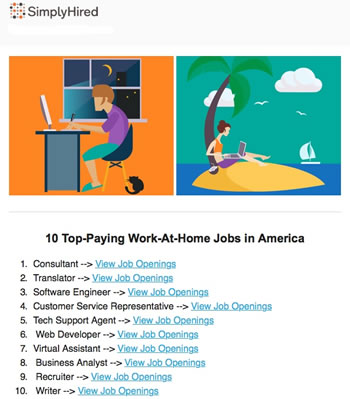 This "10 Top-Paying Work-At-Home Jobs" list is proof:
freelance writer jobs are among the best!
In June 2016, SimplyHired.com released an email alert listing the "10 Top Paying Work-at-Home Jobs in the U.S." I glanced through the list and saw several jobs I'd expect to see, such as Consultant (#1), several computer/IT-type jobs including Software Engineer and Tech Support Agent, and also Virtual Assistant, Web Developer and Recruiter.
But then as I continued scanning, there it was – rounding out the list at #10: WRITER!
This is fantastic news for aspiring and working writers, because it's another strong indicator that you really can make a make a great living through freelance writer jobs.
But what does "top-paying" really mean when it comes to being a freelance writer? After all, there are a number of websites that offer copywriting jobs to the lowest bidder … sometimes paying only $10 per article. Yikes, this is the starving-writer approach to getting work. You'll want to avoid those websites.
Instead, we're excited to show you some of the top rates you can expect to earn as a freelance writer with companies that understand the value of quality, knowledgeable writing.
Solid writing skills are in demand more than ever, as evidenced by the 18,873 writer jobs currently listed on SimplyHired.com, 22,564 writer jobs listed on Indeed.com, and "1,000+" writer jobs on Monster.com.
Granted, many of those jobs are full-time, on-site positions, but many others are offering telecommuting/work-at-home positions and freelance work. And, on FlexJobs.com, you can narrow your search by Freelance (295 writer jobs) and Telecommute (234 writer jobs).
In short, thousands of companies are looking for skilled writers now, and are willing to pay well for copywriting — or content writing — that brings results. This is why it's a great time to be a professional writer.
Let's look at some of today's top-paying freelance writer jobs for professionals who know what works
If you're a professional direct-response copywriter, web content writer, SEO copywriter or B2B copywriter … you can expect to earn exceptional rates for your valued work. Here are some of the most popular projects — and their fee ranges — available to skilled copywriters now.
Web content and other online content writing
Home Page Content: SEO and Sales-conversion Copywriting
$1,500-$3,000
Optimizing a Website: SEO and Sales-conversion Copywriting
$500-$1,000/page
Landing Page: Single Sales Promotion/Online Sales Letter
$950-$3,000 and up, depending on the length
Blog Posts: Unique, helpful, newsy or entertaining content, with SEO woven in
$250-$800/post
Video or Podcast Script
$500-$1,000/minute
Online Case Study
$1,200-$2,000
eBook: Special Report, How-to Guide, etc
$2,000-$7,000, depending on length
Autoresponder emails (series)
$150-$1,000/email
E-newsletter
$800-$1,500
Social Media Management: Posting content and monitoring activity, 5 days a week
$1,000-$2,000/month
Offline/print copywriting services
Direct Mail: Simple Sales Letter with Order Form
$1,500-$5,000
Direct Mail: Lead-Generation Package
$2,000-$3,500
Direct Mail: Financial, Health, or Info-Marketing Publishers
$7,500-$15,500+ (plus royalties)
Brochure (3 Panel)
$750-$1,500/panel
Print Ad
$800-$2,000
Radio Commercial
$1,200-$1,500
Buying Guide or "Tips" Booklet
$500-$1,000+
Annual Report
$2,000-$3,500
Telemarketing Script
$500-$2,000
Ghostwriting a Book (memoir, business book, etc.)
$5,000-$10,000
Employee/Human Resources Materials
$2,000-$5,000
That's just a sample listing of 21 different types of writing projects that companies have right now. There are many, many other types of writing jobs out there … and the need is ongoing. This means that once you've landed a client and done a nice job for them, the work will keep coming. That's because all marketers need to steadily promote their products and services and use fresh, compelling content to bring in new business. Otherwise, their content-savvy competition will speed ahead of them.
In addition, once customers make a purchase, companies need to communicate to them on a continual basis, cross-selling other products, providing new solutions, and generally keeping them happy and loyal. This is where a steady stream of newsletters, emails, direct mail and other marketing communications materials play an important role. It never ends, which is great for writers!
Another category of top-paying freelance writing jobs is trade show materials. Consider the B2B (business-to-business) market. In that world, one supplier alone can spend more than $100,000 on a single trade show for that industry. For instance, in the veterinary industry, there are several industry conferences and trade shows each year. At each show, hundreds of companies are vying for attention and business from the attendees (veterinarians) … and it all takes copywriting: posters, signs, brochures, demo videos, speeches, coupons, and more. Plus it extends to the supplier's website, emails and other online materials.
All of these different marketing projects are among the top-paying gigs for writers.
For a list of fee ranges for 75 different freelance writer jobs, download our free report.
Of course, to charge these rates, you'll definitely need to demonstrate your skills and experience, and show that you have the chops to produce effective writing that delivers results. The good news is, if you don't have that type of experience yet, it's very easy to learn copywriting these days. (Browse AWAI's free copywriting articles to get an idea.)
And, be sure to check out DirectResponsejobs.com to find the latest opportunities for writers.
Pam Foster is the Director of Copywriting Training at AWAI (American Writers & Artists Institute), which has been helping people develop skills to acquire financial security, independence and freedom since 1997. And as the world's leading publisher of direct-response copywriting, travel writing, photography and graphic design home-study programs, AWAI has helped thousands of people do just that.

The Professional Writers' Alliance
At last, a professional organization that caters to the needs of direct-response industry writers. Find out how membership can change the course of your career. Learn More »

Published: September 17, 2016